Three cheers for 3T
Published: 18/03/2013 04:45
I used to think Barbecue Garden in Nam Ky Khoi Nghia topped the BBQ stakes in town until by chance I encountered 3T (Quan Nuong) in Ton That Thiep (try saying that after some dental surgery) street downtown.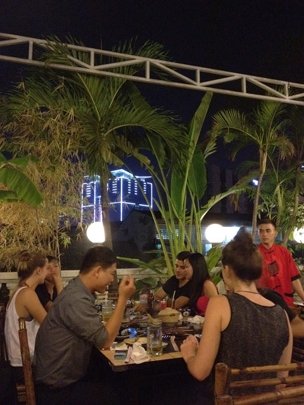 A group of expatriates and locals enjoy a birthday bash at 3T downtown
The rooftop eaterie certainly looked the part as I entered. Huge swathes of locals, expats and tourists alike reveling in the dishes on offer and of course washing it down with a few refreshments. So far, so good.
Certainly a lot noisier than its city rival as we waited to be seated. Fridays and Saturdays are normally packed out here and although this was a Thursday, we had to wait a few moments as the staff cleared away and cleaned the table in two minutes flat.
Quick work and no wonder with the owner and boss keeping a beady eye on her staff.
Some netizens have said they find this place a little hard to come by but once you find you it becomes your regular. It is that good it is now my second home.
Prawns, deer, goat, rabbit, wild boar, beef - you name it they quickly dip it in sauce and chuck it on the grill which of course you can cook yourself – medium, rare or bloody as hell.
The last one not recommended if you have a tender stomach. The prices are very reasonable and if you fancy a romantic night you might just get away with it if your date likes to drink beer and enjoys a lively atmosphere.
However, it is best recommended for groups of four or more who will have a fabulous time and won't want to leave, spare a thought for those still waiting at the bar, though, people.
It seems to be a popular choice for birthday parties and group gatherings. I don't know if they are just after a free cake or not but every time I go I wait for the darkness. The lights go up, Happy Birthday to you being belted out the speakers and voila the birthday cake arrives with streamers and all the hullabaloo.
A Tiger beer never tasted so good until I chanced upon 3T. See you there folks.
3T (Quan Nuong) is located at 29-31 Ton That Thiep in District 1 just off Pasteur, tel: 0838 770921.
Thesaigontimes
Provide by Vietnam Travel
You can see more
enews & updates
Sign up to receive breaking news as well as receive other site updates!