Trying medicinal bathing with the Dao
Published: 27/10/2012 07:46
Medicinal bathing is a local feature of the indigenous Red Dao in the northern mountainous province of Lào Cai.
In Tả Phìn Commune (Sa Pa District), tourists can spot many families drying herbs in their front yards.
Legend has it that on the last day of the year the Dao boiled leaves from the forest for medicinal bathing before welcoming the new year in.
At this practice proves both effective and salubrious, a majority of Kinh people have considered it a unique feature of Red Dao culture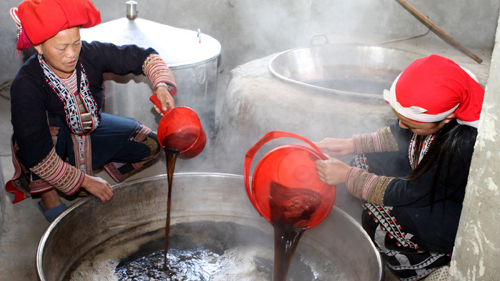 Each barrel of water usually contains at least 10 types of herbs, even up to 120.Every bathroom has a wardrobe to keep personal belongings and visitors feel quite relaxed to be bathed in the typical wooden tubs filled with hot water and the aromatic smell of different herbs.
There are two types of bathrooms: a single for one wishing to bathe alone and a double for couples to share.
Stepping out from a steam-filled bathroom, Christine Smith—an American tourist—says; "I feel so relaxed, like being full of energy".
Christine is no exception. Other Western tourists also feel the same about medical bathing in Sa Pa after a long trip through north-western provinces.
Lý Tả Mẩy, 30, says bathing with medicinal herbs is a traditional practice of the Red Dao before her time.
"In our village, either in winter or summer, the whole family boils a big pot of medicinal herbs to fill wooden tubs for themselves to bathe in the hope of curing ailments such as knee, hand, and foot pain, muscle pain, headache, back pain, excess alcohol, fatigue, poor blood circulation, and skin diseases.
"If women take to bathing with these herbs after giving birth, they will recover quickly and have a better blood circulation and beautiful skin", she says.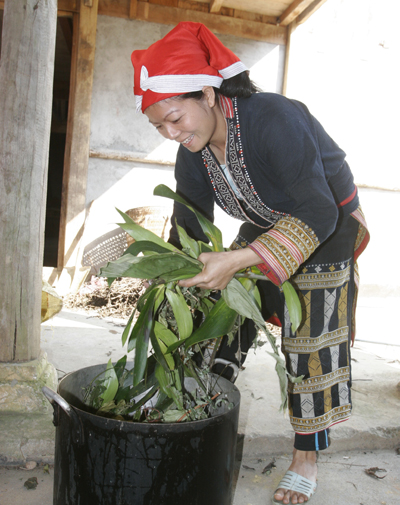 Red Dao people in Sa Pa are famous for curing bone, joint, and muscle pains, common cold and flu symptoms.

Collecting medicinal herbs is no easy task, says Chảo Mán Mẩy from Tả Van Village.
"Medicinal herbs grow along the streams or in the forest. If you want to pick them, you'd rather go deep into the forest", she says.

Like other Dao women,Liu has spent time teaching her young daughter about how to pick medicinal herbs where they often grow, and how to tell the difference between the medicinal plants and poisonous varieties.
"This is very important because some poisonous herbs look much like medicinal ones. Only after about five or six trips to the forest, can my daughter find the right herbs", she says.
She says the best time for picking medicinal herbs is in the early morning, as the dew preserves the essence of the sky and earth in them.
The Dao only take the branches and leaves, leaving the roots intact for growth until the next time of pruning
The final step is to chop and dry the herbs in the sun so that they can be used for a long time. However, according to Mẩy, using fresh herbs is better than dried herbs.
The Red Dao's treatment secrets have been passed down from generation to generation. Today, some medicinal remedies are given in Sa Pa as a special tourist service
Preparing water for medicinal bathing is time-consuming. It is boiled with both fresh and dried herbs in liquid form for people to soak up through the skin.
Dr. Trần Văn Ơn from Hà Nội University of Pharmacy says: "Each remedy of the Red Dao usually consists of between 10-120 different kinds of herbs, depending on regular or irregular medication".
After many years of research, Ơn has helped other Red Dao people process several kinds of herbs into pulverized substance for future use. The Red Dao's medicinal bathing has become one of the northern mountainous province's attractions, even though it is still a mystery to foreign tourists who first set foot in Sapa.
Source:VOV Online
Provide by Vietnam Travel
You can see more
enews & updates
Sign up to receive breaking news as well as receive other site updates!