Vi-Giam singing seeks recognition as world heritage
Published: 25/03/2013 04:10
Vi-Giam folk music was officially selected as a representative of Vietnamese heritage seeking UNESCO's recognition as a World Intangible Cultural Heritage in 2014.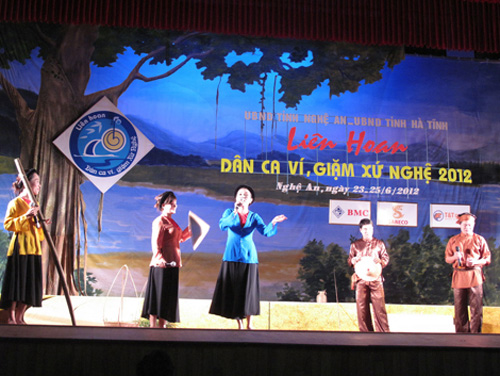 The announcement was made by the Department of Cultural Heritage under the Ministry of Culture, Sports and Tourism on March 23.

According to the department, a dossier requesting the recognition is being finalised to be submitted to UNESCO before the March 31 deadline.

Vi-Giam singing is popular in nearly 260 villages in the central provinces of Nghe An and Ha Tinh.

The two provinces have 51 singing clubs with over 800 vocalists, many of whom are actively preserving the folk music.

Vi-Giam folk music, estimated to have 15 tunes of Vi and 8 airs of Giam, is a repartee sung while working. It reflects the work, cultural lives and feelings of the residents in the central coastal provinces.

Vietnam now has seven examples of intangible heritage recognised by UNESCO as world intangible heritages, namely Hue city's royal court music, Gong space culture in Tay Nguyen (Central Highlands), the northern province of Bac Ninh's love duet singing, the Giong festival, Ca Tru ceremonial singing, Xoan singing, and Hung Kings' worship.
Vietnamplus
Provide by Vietnam Travel
You can see more
enews & updates
Sign up to receive breaking news as well as receive other site updates!