900 ex-sex workers to be released amidst concerns
Published: 11/10/2012 04:29
Nearly 900 former prostitutes at rehabilitation centers nationwide will be set free when the Law on Handling Administrative Violations takes effect July 1, 2013, and many experts are concerned about certain related issues.

The figure is provided by the Ministry of Labor, War Invalids and Social Affairs' Department for Social Evils Prevention and Control, which said such a release will mark a significant change in conception and policies towards sex workers in Vietnam.

Instead of detaining prostitutes at rehabilitation centers, concerned agencies will take measures to minimize their impact on the community and help former sex workers re-integrate into communities and access healthcare, legal, and vocational training services. They will also be given loans to open businesses.

Ho Chi Minh City's Social Labor and Education Center is now housing 79 former sex workers, who have been fined many times and are being given vocational training at the center, said the sub-department. However, when the law comes into effect, all of them will be set free, the center said.

In talking with the media, Le Thi Ha, acting head of the department, said the new law has applied humanitarian treatment towards sex workers.

However, Ha said she is worried about the lack of policies that can assist former sex workers in integrating into society and seeking a job.
The lack of such policies and discrimination against former sex workers will cause difficulties for concerned agencies in managing and controlling such people when they are released, Ha said.
According to a report from the department, the prostitution situation remains complex, with sex workers be found in every province and city today, although the main locations for prostitution are big cities like HCMC, Hanoi, Hai Phong, Can Tho and Vung Tau.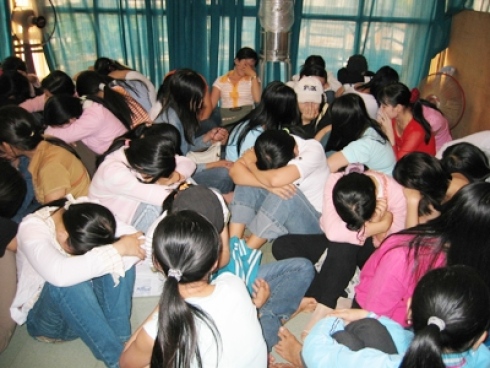 Sex workers caught in a recent bust by police in HCMC (Photo: Tien Phong Online)
Prostitution has gradually developed in a more complicated manner, and more and more young sex workers can be found today. Currently sex workers even include students, singers, actresses, beauty queens and models who take part in sex rings that can be organized secretly and on large scales, the department said.

A recent survey conducted in Hanoi, Hai Phong and HCMC showed that a sex worker can earn VND10 million per month on average, the department said.

Meanwhile, prostitution and unsafe sexual intercourse have become the main causes of the spread of HIV/AIDS.

Commenting on the fine rate for sex workers under the new law, Nguyen Van Minh, deputy director of the HCMC Department of Labor, War Invalids and Social Affairs, said a fine of VND300,000 (US$14.4) is too small to discourage sex workers.

After all, such a fine is based on humanitarian treatment towards sex workers, while the new law gives heavy penalties to pimps, sex procurers and sex brokers, Minh explained.

He suggested that social centers be set up to give necessary assistance, including accommodation, to sex workers if they need it. At such centers, sex workers will be given consultation or heath care services.

He said the idea of setting up such centers will be submitted to the city authorities for approval and implementation.
Source: Tuoitrenews
Provide by Vietnam Travel
You can see more
enews & updates
Sign up to receive breaking news as well as receive other site updates!