200g hair bun in 5-year-old child's stomach
Published: 23/04/2013 07:41
A 5-year-old girl in Binh Thuan Province was brought to the Children's Hospital No. 2 in HCM Cityfor examination for having a big hard piece in the abdomen and she was frequently tired and vomited, lost weight and appetite, and she could just eat diluted food and drink milk.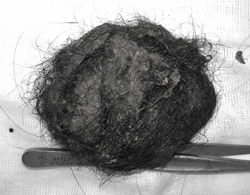 Through talking with the child and after a physical examination, the doctors found that she had a habit of pulling hair to chew and her hair was also bare. The doctors suspected this is a case of having foreign body inside the stomach caused by eating hair.

Using endoscopy, the doctors found a big bun of hair that occupied almost one third of her stomach, which prevented solid cooking from entering the stomach. The bun of hair was too big to take out by endoscopic surgery, so doctors had to perform an open operation to take the hair bun, which weighs about 200g.

Currently the baby is in stable condition. She can eat normally and is being assisted by psychiatrist.

Dr. Nguyen Minh Ngoc, vice chief of the Gastroenterology Ward, said eating hair is not rare but this case is quite special. Eating hair may be related to a mental illness called trichotillomania, which is pretty rare and usually occurs in girls. In a majority of hair eating cases of kids, this is an expression of loneliness and lack of care form adults.
Vietnamnet
Provide by Vietnam Travel
You can see more
enews & updates
Sign up to receive breaking news as well as receive other site updates!