Destroying forest to seek rare herbs
Published: 06/04/2013 02:49
The Central Highlands is favored with various varieties of rare herbs. However, the resources of herbs in this region are getting exhaust when thousands of people are flocking into the jungle to exploit them.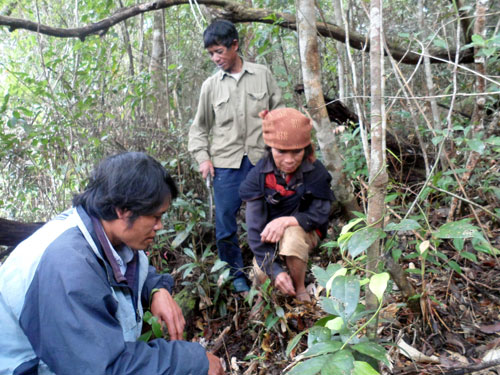 Seeking Anoechilus roxburglihayata orchids in the forest.
Seeking rare herbs has become a "fever" among in the Central Highlands. Equipping themselves with a bag of rice, a pot, some dried fish, a knife and several simple tools, thousands of people leave their homes and their fields to go to jungles to find herbs.

The herbs are purchased by traders to export to China or Taiwan via the land border or to be supplied to the domestic market.

Along with the herb-searching movement, rare herbs are getting exhaust while the forest is being destroyed.

Early in the morning of one day in late December 2012, Mr. A Quy, in Hieu commune, H.Kon Plong district in Kon Tum province hurried his wife to go to the forest despite it was raining heavily.

Putting some cooking, two sharp knives and some tools into a papoose, the couple joined a group of villagers going into the forest to seek Anoechilus roxburglihayata orchids. This species blossoms at the year's end so this was the good time for local residents to hunt it.

A Quy said hundreds of people from the communes of Hieu, Po E, Mang But, Mang Canh in H.Kon Plong district went to the forest like him and his wife to seek Anoechilus roxburglihayata orchids, which is priced up to VND1 million ($50) per kilo.

"It is said that this species is so precious and it can cure cancer. Many people want to buy it so we go to the forest to hunt it," A Quy said.

It took them several hours to go to the area that has Anoechilus roxburglihayata orchid. But they only needed to find several trees to earn VND300,000 to VND400,000 ($25-20), which is a quite big amount with miserable people.

The high income from Anoechilus roxburglihayata orchid urged even local officials, including Mr. Dinh Hong Gio, former Party Secretary of Hieu commune, to go to the forest. Gio said he has done this job for several years.

Traders from many provinces like Kon Tum, Gia Lai and Quang Ngai flock to H.Kon Plong district to buy the orchid to sell to China.

Mrs. Diem, a big agent from Kon Tum City, said: "My husband and I have collected this species of orchid for about 10 years. I don't know about the effect of it but Chinese and Taiwanese traders have high demand for it. Some traders are ready to pay deposit for local people to seek this orchid. People have exploited the trees for years so I'm afraid that it will be extinct in the next few years."

Hunting the Anoechilus roxburglihayata orchid, local people also destroy the forest. To seek the trees that are only tens of inches tall, they also chop down other trees mercilessly.

At the same time, thousands of others also go to the jungle to seek herbs such as linhchi fungus, Vietnamese ginseng, etc.

Mr. Dang Thanh Nam, H.Kon Plong district's Vice Chair, said the local authorities had called the people for not going to the forest to seek herbs but because of big earnings from herbs, they still sneak into the jungle.


To serve the trade of herbs, many herb shops have appeared in the city of Kon Tum, particularly on Le Hong Phong Street.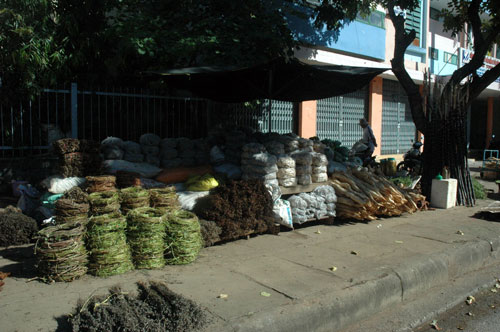 Herbs sold on the pavement of Le Hong Phong Street, Kon Tum City.
Mrs. Yen, the owner of an herb shop there, said she had sold herbs for over five years. Her shop has over ten kinds of herbs and her clients come from many provinces. According to Yen, the prices of herbs are on the rise, along with their exhaustion.

Another herb trader, Mrs. Hai, 70, said she earned several hundreds of thousands dong from her shop each day. She mainly bought herbs from people in the districts of Dac To, Sa Thay, Tu Mo Rong, Kon Plong in Kon Tum province.

Mr. Vu Huu Tuan, Chair of Tu Mo Rong District, Kon Tum province, said the resources of ginsengs, especially Vietnamese ginseng, in Kon Tum's forest are getting exhaust because of overexploitation. The price for a kilo of Vietnamese ginseng is up to VND70-80 million ($3,500-$4,000).

Without the protection from the local government, many rare herbs will vanish, especially the Vietnamese ginseng, which is evaluated as one of the best ginseng species in the world.
Vietnamnet
Provide by Vietnam Travel
You can see more
enews & updates
Sign up to receive breaking news as well as receive other site updates!