Rural midwives rewarded with pay rise
Published: 27/04/2013 03:08
The role of village midwives in the country's health system will officially be recognised when the Ministry of Health's circular 07/2013/TT-BYT comes into effect at the beginning of next month.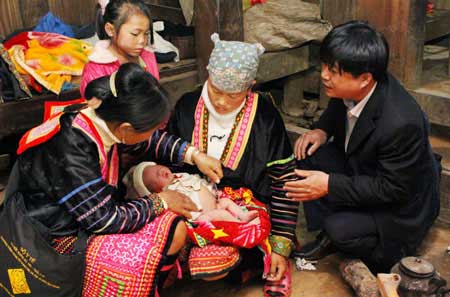 A village midwife (left) takes care of a new-born in the northern mountainous province of Dien Bien.
Village midwives will be officially recognised in the country's health system due to
their remarkable contributions to reducing obstetric complications.
With the recognition, village midwives, including those working in ethnic groups and remote areas, will be entitled to regular allowances from the State budget.

Under the circular, each village midwife will receive a monthly allowance of 0.3-0.5 of the minimum wage set by the State, depending on their localities. The poorer the area the village midwives work in, the more they will get. Typically, the allowance at present will be VND300,000-500,000 (US$14-$23) a month.

The circular was issued based on the fact that the occupation was not officially recognised in the health system, had no official title and no official allowance, said Deputy Minister of Health Nguyen Viet Tien at the circular's launch event in Ha Noi yesterday.

Many midwives left the job. From 1998 up to now, few midwives were financially supported by programmes and projects to maintain their activities, which were irregular and carried a small allowance, about VND50,000 ($2.30) per month.
"The circular encourages village-based ethnic group midwives to provide maternal and child health care in remote and mountainous areas where women usually give birth at home," said Tien.

This will significantly contribute to reducing the rate of obstetric complications in hard-to-reach communities, he said.

Since 1998, about 1,300 village health midwives have received training under different programmes and projects including Tu Du Hospital, United Nations Population Fund (UNFPA) and World Health Organisation. About 80 per cent of them are working.

"The role and effectiveness of village health workers in recent years have been highly recognised by local authorities and leaders of the health sectors," said Tien.
The circular also regulated that the village midwives must complete the MoH's courses, which take at least six months, work under the professional management of commune medical stations and be supervised by the commune people's committee.

The midwives, equipped with tools based on the MoH's regulations, will take care of the health of pregnant women, mothers and children and circulate family planning information.
Mandeep O'Brien, UNFPA representative in Viet Nam, said the circular showed the strong commitment and great effort of the Government in achieving the health-related Millennium Development Goals by improving human resources for healthcare at the grass-roots level.

Investing in human resources for health, especially at village level, was one of the soundest investments a country could make, she said.
If ethnic minority midwives were empowered to provide the health-care services they were trained for, the nation would not only save many lives, but would also improve its economic and social productivity, she said.
Speaking to Viet Nam News over the phone on Tuesday, April 23, Deputy director of northern mountainous Ha Giang Province's Department of Health Dang Van Huynh also commended the Government's action.

"It will serve as an incentive for trained village health midwives as commune health workers find it difficult to provide safe motherhood and new-born care in mountainous and remote areas due to difficult transportation, lack of equipment and proper policies for them," he said.

Thanks to the village midwives, last year 39 per cent of the pregnant women in Chi Ca Commune – the area seeing the highest rate of maternal accidents – gave birth at medical stations, an increase of 29 per cent compared with 2009, Huynh said.

The maternal mortality audit conducted by the Maternal and Child Health Department and the Health Strategies and Policies Institute in 2009 also reported that the maternal mortality ratio in ethnic and mountainous areas remained three and four times higher than that in delta areas.

There was also a high home delivery rate of 40-60 per cent in northern mountainous provinces, such as 59 per cent in Lai Chau and 55 in Dien Bien Province.
Vietnamnet
Provide by Vietnam Travel
You can see more
enews & updates
Sign up to receive breaking news as well as receive other site updates!