Traffic policemen learn how to smile with, apologize to people
Published: 11/04/2013 07:49
HCM City Traffic Police Department have opened training classes for traffic police officers on how to smile to and apologize people when they deal with administrative violations in the street.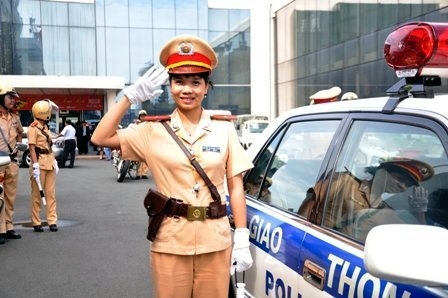 The classes take place from April 8-15 to provide traffic police officers with knowledge on "cultural behavior, moral behavior of traffic police officers" while practicing their duty.

This training session is chaired by Prof., Dr. Vu Gia Hien, a social psychologist of the HCM City Education Psychology Association.

One of the basic contents of the training is to build the good image of traffic police officers in communication and behavior with people while on duty.

HCM City Traffic Police Department also says that the agency is determined to correct uncultured behaviors and acts of its police officers in communication with people.

Prof. Dr. Vu Gia Hien said, he had surveyed and found out that traffic police officers rarely smiled or said sorry to people before imposing administrative sanctions.

He added that traffic policemen are the people of public. At present, the images of traffic policemen are easily filmed to distribute on the Internet so the negative image of any police officer can also affect the overall image of the traffic police.

"The purpose of traffic police officers is to educate and diffuse the law to people to help them understand the law, not violate traffic laws ... not to punish them. Policemen on duty must always smile, say sorry to people before announcing the offense and sanction," Dr. Hien said.

Talking to the BBC, Colonel Tran Thanh Tra - Head PC67, HCMC Police said: "The purpose of this training course is geared to build the image of beautiful Police officers and soldiers, that is, when treatment violations, to greet first, sorry people, followed by the announcement of the violations, explained, courtesy of the offense to which people understand and obey. "
Vietnamnet
Provide by Vietnam Travel
You can see more
enews & updates
Sign up to receive breaking news as well as receive other site updates!