Promoting Vietnam Tourism in three southeastern provinces of China
Published: 02/11/2011 04:25
From 17 to 21 October 2011, the Vietnam National Administration of Tourism (VNAT) and tourism businesses held market research and tourism promotion in Hunan, Jiangxi and Fujian provinces – China.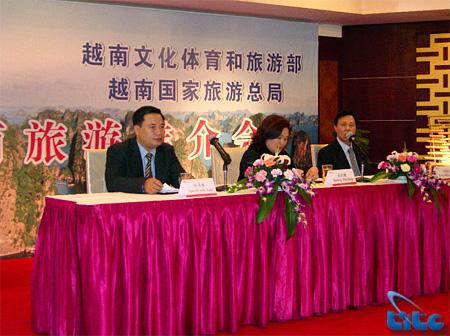 Introducing Vietnam tourism.
The Vietnamese delegation included Deputy Director General of the VNAT Hoang Thi Diep, representatives of VNAT's departments, Culture, Sports and Tourism departments, Vietnam Television, Vietnam Cheo Theatre, and 12 tourism businesses. In the programme, the delegation had working sessions with directors of tourism department in three provinces and nearly 200 Chinese tourism businesses.

In the working sessions, Mrs. Hoang Thi Diep introduced Vietnam tourism development recently, tourism policies for Chinese tourism market and expressed her wish to speed up tourism cooperation with China in general and three provinces in particular.
Both two parties reached an agreement on tourism management and development experience exchange focusing on tourism spots management; fostering tourists flows, impulsing tourism industry of both countries, organizing famtrips; intensifing bilateral meeting and information exchange. In 2012, tourism departments of three provinces and VNAT will organize famtrips to study Vietnam market.
It is the first time VNAT held market research and tourism promotion in Hunan, Jiangxi and Fujian provinces. The activity will help boost mutual understanding tourism businesses and people between the two countries as well as bilateral tourism cooperation.
Source: TITC
Provide by Vietnam Travel
You can see more
enews & updates
Sign up to receive breaking news as well as receive other site updates!