Vietnam capital's eccentricities charm French photographer
Published: 01/03/2013 03:46
There's always a smile on Lolo Zazar's face. He loves being happy and seeing smiles on other people's faces.
"I see people smiling all the time in Viet Nam, that's probably why I love being here," Zazar said.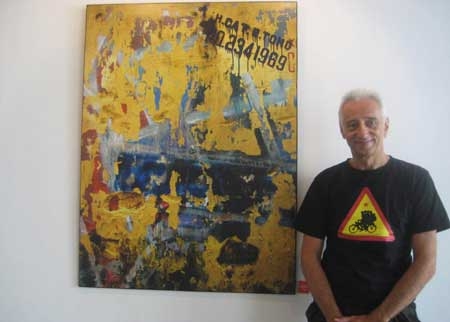 Wonderwall: Lolo Zazar stands besides one of his photos featuring the patchwork walls of Ha Noi at an exhibition in the city last year.
The French artist has worked in different genres of art, from fine art and photography to animated film, for 30 years, and draws inspiration from Viet Nam.
It's the charm and simple beauty of the country that appeals to him.
The colonial architecture, colourful shop signs and mouldy walls in the Old Quarter give meaning to his work.
In his last exhibition in June 2012, he impressed audiences in Hanoi with his photos depicting the capital's patchwork walls.
During his five-year stay in Viet Nam, he took 2,500 photos, but selected only 18 for the exhibition.
"When I go out onto the streets, I often see Ha Noi as an open air museum. Its walls are like works of art," Zazar said.
He has a particular affinity to the khoan cat be tong (concrete drilling and cutting) advertisements. These words are written or engraved on the walls in different colours, along with the numbers of the people or companies who do the jobs. Modern walls adorned with graffiti also attract the artist.
People leave their marks on the walls, but according to Zazar, nature may be the most talented artist. Due to the impacts of the wind, rain and sunlight, the colours of the drawings and writing change with time.
"Each wall has its own story to tell. A large part of Ha Noi's history is engraved on the walls. Those walls are typical of Vietnamese cities, not only in Ha Noi," Zazar said.
Besides his recent exhibit, he opened his first exhibition of sculpture and lacquer work at l'Espace in 2010, after learning the art of lacquer from Vietnamese friends.
Zazar first arrived in Viet Nam 18 years ago with his Vietnamese wife to visit her family. The country quickly seduced the French artist with its simple charm and quirks.
"It was 1994 and things were very different back then. Local people stopped and stared at us because we were a mixed couple," he recalled.
"I stayed for a month in Thai Binh Province with my wife's family, and it was there that I discovered the Vietnamese countryside.
"But I couldn't sleep on the wooden beds, it was too uncomfortable."
Since his first visit, the couple have returned to Viet Nam every two years to visit family and friends and work on various artistic projects.
Ha Noi is like a second home to him now, and he loves driving his motorbike around the city's busy streets.
"We really want to move here permanently before it changes too much," said Zazar.
"Ha Noi is a treasure for future generations and should be preserved."
He hopes that the people hold on to their traditions, and the women maintain their inner beauty, rather then paying too much attention to their physical appearance.
"I prefer to see Vietnamese women wearing traditional clothes like the ao dai (traditional long dress). What is most important is their inner beauty."
Source: VNS
Provide by Vietnam Travel
Vietnam capital's eccentricities charm French photographer - Vietnam arts - Vietnam culture | vietnam travel company
You can see more
enews & updates
Sign up to receive breaking news as well as receive other site updates!