Wartime poisons persist in Bien Hoa 
Published: 30/06/2011 05:00
Environmentalists are hopeful the first international study of dioxin contamination around Bien Hoa Airbase will pave the way for a US-funded cleanup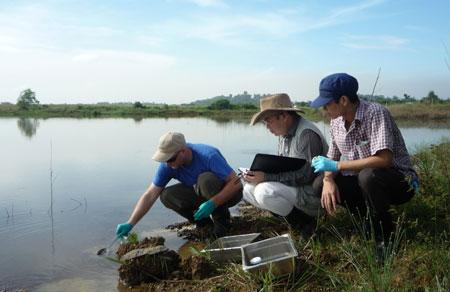 International and local researchers conduct sediment sampling around the Bien Hoa Airbase. The first-ever international study has confirmed continued dioxin contamination at the airbase and called for an immediate stop to fish harvesting in the area. PHOTO COURTESY OF HATFIELD CONSULTANTS
On a recent afternoon at Bien Hung Park, a young, handsome couple chatted happily on a bright green lawn. An eight-year-old boy wandered through the trees selling lottery tickets to whoever passed. Elderly couples strolled along the shaded walkways.
At first glance, the park, located in Bien Hoa Town, seems like an ideal escape from the stifling Ho Chi Minh City – which sits just 35 kilometers southeast of the southern town.
But, in April, Hatfield Consultants, a Canadian environmental firm, warned the provincial government to tell local residents to keep people from the cultivation of fish, ducks, and livestock at Bien Hoa Airbase.
The Bien Hoa Airbase, and Da Nang and Phu Cat airports in central Vietnam are widely recognized as major "dioxin hotspots" where Agent Orange and other toxic herbicides were stored, loaded and spilled by US military personnel during the Vietnam War that ended in April 1975.
This week, Hatfield researchers released their new findings, which confirmed the presence of military defoliants in the Bien Hung lake's sediment.
Little was done in the town park to inform the public of the findings – save a few scant "no fishing" signs.
Le Van Khanh, a security guard, said there was no need to warn the people that the lake contained any toxins.
"Everyone knows about that," he told Thanh Nien Weekly.
But Khanh appeared to be wrong.
"I'm not sure if the lake is contaminated," said a middle-aged woman at the park who only gave her first name as Oanh. "No official announcement has been made."
An elderly woman named Ba Hai said she believed that fishing had just been forbidden to protect the fish population.
Latest findings
Scientists from Hatfield Consultants have reported higher levels of toxic chemical compounds in this unassuming lake than were discovered in a Vietnamese study that was conducted six years ago.
In their final results, released this week, the firm found that the poisons deployed from the Bien Hoa Airbase remain persistent in the lake.
However, the study confirmed that none of the sediment samples collected from the park's lake exceeded Vietnam's dioxin threshold.
What's more, "elevated levels" of dioxin have been found in fish and other animals living around the Bien Hoa Airbase.
Between 1961 and 1971, the US Army sprayed some 80 million liters of Agent Orange containing 366 kilograms of the highly toxic dioxin over 30,000 square miles of southern Vietnam. Between 2.1 to 4.8 million Vietnamese were directly exposed to Agent Orange and other herbicides (which have been linked to cancers, birth defects and other chronic diseases) during the Vietnam War, according to the Vietnam Red Cross.
Dioxin has not broken down. Instead, it remains trapped in the soil and, in some cases, the bodies of Bien Hoa's surrounding population.
"There are a number of hotspots which have not yet been cleaned up on the [Bien Hoa] Airbase," said Thomas Boivin, Hatfield's Director of International Operations and Partners.
What's worse, the effects have been passed down from parent to child.
"Fish raised on the Airbase are contaminated with dioxins and should not be consumed. People who eat fish from the Airbase have elevated levels of dioxins in their blood and breast milk. Fishing and aquaculture should be banned from the Airbase," according to the study, which was conducted last November in collaboration with Office 33 of the Ministry of Natural Resources and Environment.
Boivin said that fish sampled from Bien Hoa Town markets had low levels of dioxins and are safe for consumption.
The bottom line is, Boivin said, "the Airbase needs to be cleaned up to protect the local population."
Help wanted
Last Friday, Vietnam and the US began the first phase of a joint plan to clean up environmental damage caused by Agent Orange at a former US airbase in the central city of Da Nang.
Vietnam's Ministry of Defense has already begun sweeping areas around the former base for unexploded ordnance. The ministry will begin working with the US Agency for International Development (USAID) to remove dioxin from soil and sediment at the site, some time early next year.
The US$32-million cleanup seeks to remove dioxin from 71 acres (29 hectares) of land at the Da Nang site where a 2009 Hatfield study found that chemical levels there were 300 to 400 times higher than international limits.
"I think it's fair to say that dioxin contamination and Agent Orange was one of the single most neuralgic issues in the US-Vietnam relationship," said US Charge d'Affairs Virginia Palmer.
Despite overwhelming evidence of widespread birth defects and chronic illness around the former airbases, the US has continually called for more research on the effects of dioxin contamination in Vietnam.
Over the years, the US Department of Veterans Affairs has acknowledged 14 diseases (everything from Parkinson's disease to spinal bifida) as being related to Agent Orange exposure.
Regardless, the American government has refused to apply the same heuristic to the civilians who were on the receiving end of the spraying campaign.
"We hope this report will help to pave the way for the clean-up of the Bien Hoa Airbase, and that the US Government will also assist," said Hatfield's Boivin.
Reported by An Dien
Provide by Vietnam Travel
You can see more
enews & updates
Sign up to receive breaking news as well as receive other site updates!