Caution urged on giant PTT project
Published: 24/04/2013 03:35
State-run PetroVietnam last week expressed great concerns about the $28.7 billion refinery and petrochemical complex in central Binh Dinh Province, proposed by Thailand's PTT.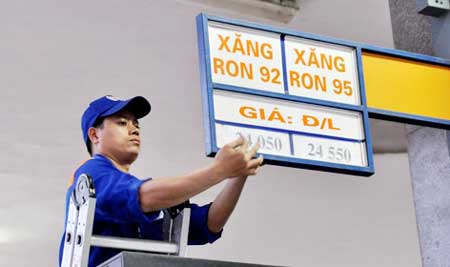 Illustration photo
The group said that the Vietnamese government had to carefully study the feasibility of the proposed mammoth Nhon Hoi refinery and petrochemical complex.
According to PetroVietnam, the complex's proposed plan conducted by the Thai firm (PTT) had not comprehensively evaluated some essential criteria such as the availability of a stable and long-term crude oil for the future complex, details of the partners who will be involved in this project, and capital arrangements, said PetroVietnam.
On April 11, in its official document sent to PTT, Binh Dinh Provincial People's Committee Deputy Chairman Ho Quoc Dung asked PTT to give specific explanations to such concerns and timely deliver a concrete plan on how the complex's products would be consumed and which infrastructure facilities such as port would be needed.
Especially, PTT was also requested to spell out in black and white how the total investment capital was broken down and show the written commitment from the firm's highest legal representative to this project.
After all those steps have been done, it is expected that at the beginning of May, Binh Dinh's leaders and PTT would meet in Bangkok to discuss all the related issues. Binh Dinh said during this trip, it would possibly meet and work with Thailand's industrial conglomerate SCG to call on the group's involvement in this project.
PTT started delivering the proposal of its Nhon Hoi refinery and petrochemical complex to Binh Dinh's leaders in November 2012.
According to the Thai firm, the complex would have the total refining capacity of 660,000 barrels per day, or 33.6 million tonnes of crude oil per year. If the project is built, it would be one of the largest oil refinery and petrochemical complexes in Asia.
Under PTT's schedule, the investors will start constructing this complex in 2016 and the commercial operation is expected to start three years later. PTT, a Bangkok stock exchange-listed company, so far has invested in a total integration petrochemical business through its eight subsidiaries, starting from upstream to intermediate and polymers both olefin chain and aromatic chain. In terms of refining business, the firm has four subsidiaries with total refining capacity of 1.04 million barrels per day. Those include Thai Oil Company Limited, PTT Global Chemical Public Company Limited, Star Petroleum Refining Company Limited and Bangchak Petroleum Plc.
PetroVietnam's warning came following the failure of the once-proposed ambitious foreign-invested Can Tho and South Van Phong oil refinery projects.
South Korea's Daelim Industrial Company previously proposed to build South Van Phong oil refinery and petrochemical facilities in central Khanh Hoa Province. Daelim planned to team up with state-run Petrolimex to build this $3 billion complex. However, the project has not yet got off the ground though the investors announced it could become operational in late 2013.
Another oil refinery project in the Mekong Delta's Can Tho City has not made any progress since it received an investment certificate in 2008. The total registered investment capital of this project was cut from $500 million to $350 million, but no commencement date was announced.
Only the UK-headquartered Technostar Management Limited is pushing ahead the construction of its $3.1 billion oil refinery in central Phu Yen Province. This project was licenced in 2007. The investor said it would start building the refinery in May.
If things go according to the plan, this will be the third oil refinery project in Vietnam, following operating Dung Quat in central Quang Ngai Province and under-construction Nghi Son in central Thanh Hoa Province.
Vir
Provide by Vietnam Travel
You can see more
enews & updates
Sign up to receive breaking news as well as receive other site updates!