One dead as bus hit bike, plunges into stream 
Published: 24/06/2011 05:00
One person died and 20 others were injured when a passenger bus plunged into a roadside stream after hitting a motorcycle in the southern province of Dong Nai on Wednesday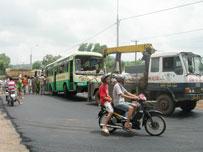 The passenger bus that hit a motorcyclist and plunged into a stream in Dong Nai on Wednesday is being towed away.
One person died and 20 others were injured when a passenger bus plunged into a roadside stream after hitting a motorcycle in the southern province of Dong Nai on Wednesday.
The bus with 29 passengers onboard was traveling on National Highway 20 through Dong Nai's Thong Nhat District when a motorist suddenly crossed the road.
The bus driver tried to pull over but he could not make it and crashed into the motorcycle.
Following the crash, the bus plunged into a roadside stream, turning on its side.
Nguyen Thanh Tam, the motorcyclist, died on the spot.
Twenty passengers in the bus were injured, four of them seriously.
The accident caused a gridlock on the highway for hours. Local traffic police sent three cranes to the site to tow the bus away.
Authorities are investigating the accident.
Reported by Kim Cuong
Provide by Vietnam Travel
You can see more
enews & updates
Sign up to receive breaking news as well as receive other site updates!