Youngsters color their Facebook in red by the Vietnam flag
Published: 24/04/2013 03:46
These days, the online community has had a movement called "Coloring your Facebook by the Vietnamese flag" to celebrate the country's Unification Day (April 30,) the May Day and the birthday of President Ho Chi Minh (May 19).
When the first message calling the use of the Vietnamese flag as the Facebook avatar was released, it was immediately received the response of the online community.

Many young people have transferred the message through their statuses. Since then, a series of avatars have been colored in the red of the national flag.

The movement has had several thousands of participants so far. A series of statuses, comments and messages with the content: I love Vietnam, Long Live Vietnam... have also been transferred with dizzying speed.
Nickname MTD Red wrote: "Like every year, each April 30, September 2, and the Tet I decorate my facebook by the red flag with yellow star..."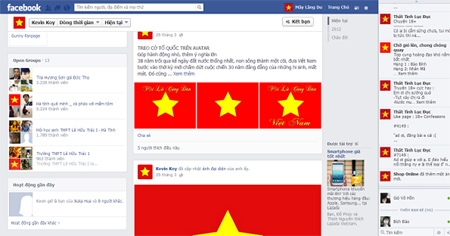 Both Vietnamese at home and abroad decorate their blogs and facebook by the national flag. The occasion is an opportunity for overseas Vietnamese to introduce the images and culture of Vietnam with friends around the globe.

Although such actions are not new ideas, but such activities to enhance patriotism have always been responded enthusiastically by the young people.
Vietnamnet
Provide by Vietnam Travel
You can see more
enews & updates
Sign up to receive breaking news as well as receive other site updates!