Chessman Quang Liem back to the world's 30th
Published: 27/03/2013 03:06
Vietnamese top chess player Le Quang Liem gets additional 7.8 Elo points after the HDBank 2013 international chess tournament and has returned to the 30th place in the world rankings.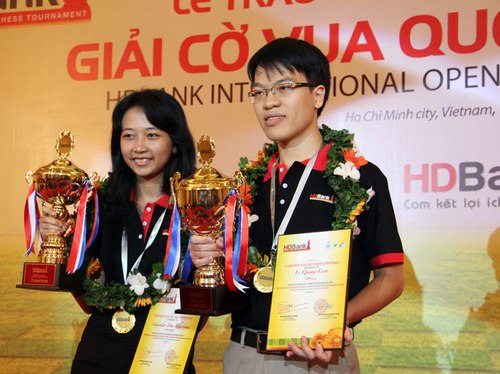 Le Quang Liem is the champion of the HDBank 2013.

Although the official FIDE rankings is not released yet, on the 2700chess.com, where daily updates the Elo results and positions of the players in the group of international super-grandmasters, Le Quang Liem's Elo has been raised to 2716.8 and he has returned to the 30th position after scoring 7.8 points of Elo at the HDBank.

The win at HDBank 2013 has put an end to a bad year of Liem since his unexpected early defeat in this tournament last year. It also removed a long time of no victory of Le Quang Liem from the 26th SEA Games in 2011.

With the latest achievement, Le Quang Liem's current target is seeking a foothold in the world's Top 20. This is not a new goal because it has always been Liem's target since he climbed to 25th in the world in 2011, after entering the third round of the World Cup.

To achieve this goal, Liem will have to try his best to play well at a few more tournaments to again about 20 Elo points more to compete with other players.
Vietnamnet
Provide by Vietnam Travel
You can see more
enews & updates
Sign up to receive breaking news as well as receive other site updates!