Yen Tu Festival
Published: 15/09/2011 08:12
A popular saying goes: "Even after 100 years of virtuous religious life, if you don't come to Yen Tu you cannot be called a true religious person". Pilgrimage to Yen Tu Festival in respect of Buddha and sightseeing is so meaningful...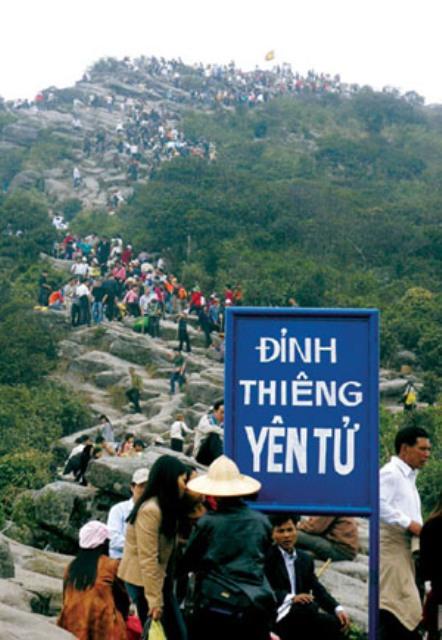 Situated within the immense arched mountain range of north-eastern Vietnam, Yen Tu Mountain in northern coastal Quang Ninh Province bears at its peak the Dong Pagoda: at an altitude of 1,068m above sea level. The beauty of Yen Tu consists in the majesty of its mountains mingling with the ancient and solemn quietness of its pagodas, shrines and towers. Yen Tu has been a centre of Buddhism for many centuries, and is the starting point of the Buddhist sect of Truc Lam. Travellers to Yen Tu Festival to stay away from the mundane and go on a religion pilgrimage in the midst of the mighty nature.
The history...
Under the Ly Dynasty, Yen Tu held the Phu Van Pagoda, with Yen Ky Sinh as its warden. But Yen Tu only really became a Buddhism centre when Emperor Tran Nhan Tong surrendered his throne to establish a Buddhist sect called Thien Truc Lam and became the first progenitor with the religious name Dieu Ngu Giac Hoang Tran Nhan Tong (1258-1308). He ordered building hundreds of constructions, large and small on Yen Tu Mountain for leading a religious life, sermonizing. After his death, his successor, Phap Loa Dong Kien Cuong (1284 - 1330) the second progenitor of Thien Truc Lam, compiled a set of book "Thach that ngon ngu" and ordered the building of 800 pagodas, shrines and towers with thousands of value statues throughout 19 years of religious life. Some famous pagodas are Quynh Lam, Ho Thien. There is the third progenitor of Thien Truc Lam, Huyen Quang Ly Dao Tai (1254 - 1334), in the sermonizing centre of Phap Loa.
Passing through to the Le and Nguyen Dynasties, Yen Tu became the focal point of Vietnamese Buddhism, and was often subject to restorations. It is a meeting place of different styles from various historic periods: visible in the many different designs and decorations that ornate its constructions.
The mountain scenery and beautiful pagodas and hermitages, inspired King Tran Nhan Tong, who reigned over the country from 1279 to 1293, to pass the throne to his son to lead the life of a Buddhist monk at Yen Tu. There, he founded the Truc Lam medication sect, making Yen Tu the country's leading Buddhist center.
... and the festival
Yen Tu Festival commences annually on the 10th day of the first lunar month and lasts for three months. Tens of thousands of pilgrims begin their journey to the uppermost shrine after a solemn ritual held at the base of Yen Tu Mountain.
During the festival, the people near and far flock to Yen Tu which was regarded as the Buddhist land to show their belief and aspiration or to get rid of all sorrows and sadness. Other go to Yen Tu to do sightseeing and to enjoy the pure atmosphere of a mountain region. Foreign visitors come to Yen Tu to witness a famous beauty spot, a mysterious tourist attraction. Many cultural and historical values are carefully preserved in Yen Tu, where is also home to a rare ecosystem in Vietnam.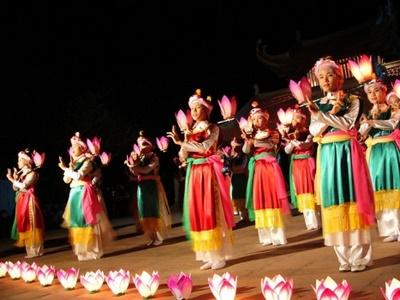 In the wide ensemble of vestiges in Yen Tu, there are 11 pagodas and hundreds of shrines and towers. One form of entertainment is to climb the peak to where the Dong Pagoda was built (1,068m above the sea). On the way, you will see pagodas, a tower, a stream and a forest. At the top, after having burned joss-sticks, you seem to be lost in nature somewhere between the sky and the earth. When clear, you can perceive almost all of the northeast area from here.
Dong Pagoda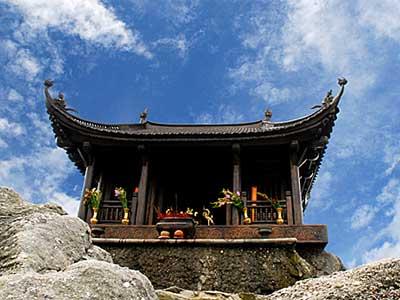 The route of the pilgrimage from the foot of the mountain to the pagoda is nearly 30 km. The highest point of Yen Tu is Dong Pagoda, which is located 1,068 m above sea level. You can get to Hoa Yen Pagoda at the altitude of 534m by the cable car system recently put into operation and will see on this peak two 700-year-old frangipane trees. From there, you will continue walking up stairs to pagodas of minor note lined up along the path leading to Dong Pagoda. There you will feel like walking on clouds. If the weather is agreeable, from this summit you can admire the dramatic landscape of the northeast of Vietnam.
The complex of historical sites and beauty spots in Yen Tu features various pagodas, shrines or stupas now appearing now disappearing under the thick foliage of the primary show their belief, or doing away with all sorrow and sadness. Others go to Yen Tu to do sightseeing and to enjoy the pure atmosphere of a mountain region. Foreign visitors come to Yen Tu to witness a famous beauty spot, a mysterious tourist attraction. Anyone who makes all the way to the Bronze Pagoda feels the magnificence of Yen Tu and forests. Atop Yen Tu Mountain, one feels like standing by the Heave Gate shrouded in white cloud. On clear days one can have a partial view of the northeastern region...
Provide by Vietnam Travel
You can see more
enews & updates
Sign up to receive breaking news as well as receive other site updates!