Cat Tien National Park - An eco-tourism destination in Vietnam
Published: 15/01/2013 01:54
Cat Tien National Park has been given a name among a list of the world's 411 Biosphere Reserve Zones by UNESCO. It boasts a wide range of fauna and flora typical which supports eco-tourism development of the provinces in Southeast Vietnam.
Driving along National Highway 20 from Ho Chi Minh City to Dalat, turning left about 24 km at Milestone No.174, Tan Phu cross-road; you will reach Cat Tien National Park. Belonging to three provinces of Dong Nai, Lam Dong and Binh Phuoc, Cat Tien National Park is one of the most important national parks in Vietnam.
Covering a large area of more than 71,920 ha, the park is divided into three main sectors. The South of Cat Tien (Dong Nai Province) is 39.627 ha; Cat Loc (Lam Dong Province) 27, 8521 and the West of Cat Tien (Binh Phuoc Province) is 4,443ha. In 1978, the South Cat Tien and North Cat Tien parks were put under the State's protection. However, due to the classification of Cat Loc Park in the program for the protection of natural wild animals and flora, in December 1998, these three parks joined together to become the Cat Tien National Park, under the management of the Ministry of Agriculture and Rural Development.
The topography of Cat Tien National Park varies greatly among the three sectors. The Cat Loc sector is situated at the western extent of the Central Highlands and, consequently, is rather hilly. Although elevations only reach 659m, the hills are relatively steep. In contrast, South Cat Tien and West Cat Tien sectors are situated in the lowlands of southern Vietnam, at the foot of the Central Highlands. The topography of these sectors is characterized by low, gentle hills; the highest one reaches an elevation of 372m.
Dong Nai River - the second largest river in Southern Vietnam - flows through the national park, forming the western boundary of the Cat Loc sector and the eastern boundary of the South Cat Tien sector. The lowlands in the north of the South Cat Tien sector are poorly drained, and support an area of swamps and lakes, which are fed by seasonal flooding of the Dong Nai River.
Cat Tien National Park gathers the diversity of fauna and flora typical for ecosystem of wet tropical forest in the provinces in South East of Vietnam. The park is estimated as the reserve of natural resources in Vietnam with lots of rare, specious and endemic genes of fauna and flora, as plentiful site for scientists, domestic and foreign tourists.
Let's come into the forest on a trail covered with tree leaves. The sunshine was on the canopies, layer after layer, the air was humid. The cicadas resounded over the forest. Don't forget to see a 400-year-old conifer there. Going further, you can see another tree, called bang lang, which is almost 300 years old. There are many other strange trees in the forest: a red-wood tree having a diameter of 3.7m, a fig having a fasciculate root that runs along the stream and can shade about 20 people, a banyan tree having a hollow trunk which is large enough for 3 people. So far, in Cat Tien Park, 1,610 kinds of flora have been classified which belong to 75 species, 162 families and 724 branches, many of them listed in the Red Data Book of Vietnam.
Covering an area of 74,319ha, the Cat Tien National Park has preserved its original natural soil with a diverse ecological system and many rare and valuable species of animals listed in the Red Book of Endangered Animals.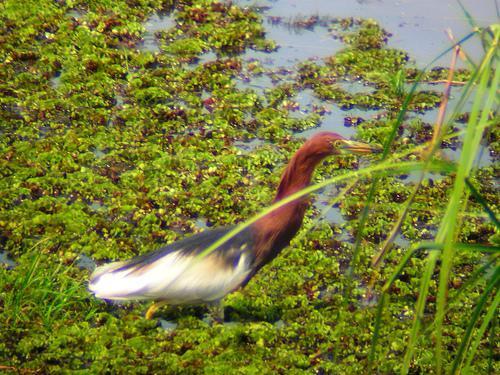 To date, 76 mammals, 320 birds, 74 reptiles, 35 amphibians, 99 fish and 435 butterfly species have been confirmed to occur at the National Park; and there are unconfirmed records of an additional 32 mammals, 19 birds, 9 reptiles, 4 amphibians, 31 fish and four butterfly species. The park comprises of such impressive mega fauna as Javan Rhinos (only one of two populations in the world), Asian Elephants, Gaur, Sun Bears and, possibly, Banteng, and wild Water Buffalo.
Cat Tien National Park is part of the wet tropical forest complex and one of the specious natural forests remaining in Vietnam. That is why this area is significant not only in Vietnam but in the world as well. The diversity of the Park has been recognized by WWF when this international organization selected the Park as one of 200 global ecological zones including the land and its water area with its well-known biological diversity. In 2001, Cat Tien National Park has been listed by UNESCO as the 411th biosphere Reserve Zone in the world.

Cat Tien is one of the most important sites in Vietnam for the conservation of large mammals. Among the large mammal species that have been confirmed to occur at the national park are Asian Elephant Elephas maximus, Lesser One-horned Rhinoceros, Eurasian Wild Pig Sus scrofa, Sambar Cervus unicolor and Gaur Bos gaurus, of which the later three species reportedly occur at high densities relative to other areas in Vietnam. The park is harboring the last known population of Javan rhinos in mainland Southeast Asia. Many projects are addressing a number of threats by strengthening law enforcement, habitat management and rationalizing park boundaries following the completion of several ecological and socio-economic studies. At the same time, these projects assist people living in the park's buffer zones with small scale community development activities.
A major conservation education campaign will raise awareness and promote a conservation agenda in the wider landscape so that the park's ecological links with surrounding protected and unprotected forests are strengthened.
Tourism activities
Cat Tien National Park receives a growing number of tourists in Vietnam travel; many of them visit on day or weekend trips from Ho Chi Minh City. The national park is also gaining in popularity amongst specialist foreign tourists, including birdwatchers. The proximity of the national park to Ho Chi Minh City - its location on the route between Ho Chi Minh City and Da Lat city, the well developed tourism infrastructure at the site, and the ease at which wildlife can be seen relative to other sites in Vietnam, are all factors in favor of growth in the tourism sector.
Vietnamtourism.org.vn
Provide by Vietnam Travel
Cat Tien National Park - An eco-tourism destination in Vietnam - Vietnam religion - Vietnam culture | vietnam travel company
You can see more
enews & updates
Sign up to receive breaking news as well as receive other site updates!