"Banh Phu The"– Vietnamese conjugal cake
Published: 15/09/2011 09:04
In Vietnam,"Banh Phu The" is a special cake, which symbolises the loyalty of a husband and wife...
The conjugal cake is normally served at Vietnamese weddings and used as a wedding invitation or taken by the man's family to the woman's family on engagement day. The stickiness of the cake is said to signify the stickiness of the marriage ties. Traditionally, a guy would offer these to the girl he wants to marry. Now these cakes are still an essential part of a wedding banquet, or the gift packages that the groom's family send over to the bride's.
"Banh Phu The" is a Vietnamese sweet with a jelly-like texture made of tapioca flour, pandan, mung bean paste, sugar, sesame seeds and coconut milk. It is very unique with a leaf covering that looks like a tiny square box, made from coconut leaves. The reason it is called Banh "Phu The" is because of how it is wrapped: a box on the top fits perfectly with the box on the bottom. If you would like ton know how to make this special cake, you can visit Dinh Bang - a famous Vietnamese village in Bac Ninh Province, then you can view the method to prepare this husband and wife cake, as follows: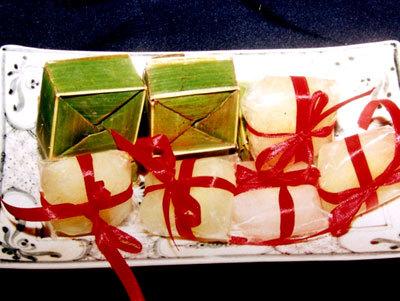 Ingredients:
- 1kg kudzu powder, refined

- 800g refined sugar

- 200g coconut flesh, scraped in thin threads

- 300g green beans

- 50 coconut leaves

- 15 pineapple leaves
To prepare:
Filling
Cut green beans in halves, soak in warm water for five hours. Strain and remove skin of green beans. Rinse.
Steam green beans and grind into a paste.
Mix green bean paste with 200g sugar, then cook over a low flame and stir until the mixture loses its sticky texture.
Spread the mixture 3cm thick on a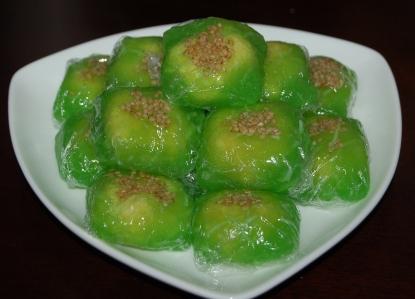 large tray, cool and cut into 6x6cm square pieces.
Cover
Wash and clean pineapple leaves and cut into 60cm strips so that only the middle remains.
Arrange the coconut leaves into a square or hexagonal shape to form a box roughly 25x30cm wide and place a pineapple leaf on top.
Dissolve the kudzu powder and remaining sugar in water. Use two and a half times as much water to the amount of powder.
Cook over a low flame, stirring until the mixture becomes a paste. Extinguish flame, add threads of coconut flesh and mix well.
Fill the coconut leaf boxes with the coconut flesh mixture and place the green bean filling in the centre.
Put the boxes in the steamer and cook for 20 minutes, until the cake becomes clear.
"Banh phu the" is a lot more interesting in texture and flavor. In the real one, the cake has it green color and flavor by being steamed inside its box...
Provide by Vietnam Travel
You can see more
enews & updates
Sign up to receive breaking news as well as receive other site updates!