Hai Van Pass - The highest pass in Vietnam
Published: 09/07/2012 06:26
Hai Van Pass is one of the highest passes in Vietnam and the most scenic hillside roads. Hai Van means wind and cloud or sea cloud.
The wind in Hai Van Pass moves the same as a herd of horses galloping with thousands of miles and clouds seem to pour down from the heaven. One of the main travel to Vietnam attractions is the panoramic view of the Danang city, Tien Sa port, Son Tra peninsula together with long white sandy beach from the Hai Van Pass.
Hai Van Pass, Vietnam is the last spur of the Truong Son Range that reaches to the sea. As described by a 17th Century Vietnamese scholar, Hai Van seems to stand with feet in the sea and its summit covered with clouds. The road over Hai Van Pass opened in the end of 19th century. The road over the pass is over 21 kilometers long and 435 meters above sea level. The drive over the pass gives the visitors who travel to Vietnam, thrill of tearing through the clouds on the winding road up and down the pass.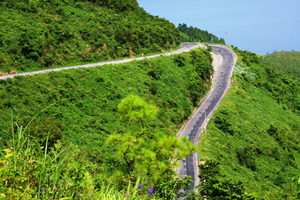 The pass is crowned with the vestiges of a fortified gateway built by the French which is now covered with moss. This gateway acts as entrance and exit points of Thuan Hoa and Quang Nam provinces. These points are indicated by the inscribed words Hai Van Gate on the one facing Thua Thien and the most grandiose gateway in the world on the one looking down on Quang Nam.

The view during the descending journey from Hai Van Pass, Vietnam is no less enchanting. Sightseeing in Vietnam is at its best here with the sequel of valleys and lagoons as the road descends lower. Hai van tunnel stop in this descending journey is the village of Lang Co sitting on the tip of a long peninsula separating a shallow lagoon from the sea. This scenic village is a good stop over place for a lunch or even a day with a beautiful beach to swim at or the village houses and the church to explore Vietnamese lifestyle.
This descending journey has much more to supply. The road between Danang to Hue city passes by few little hills with its distinctive landscape simply beyond it. 3 hours drive from Danang to Hue, Vietnam is sure to depart the tourists of Vietnam culture travel inquiring for more. Not suprisingly, Hai Van Pass, Vietnam is listed one of the most visited of the popular Vietnam destinations.
Source:vietvisiontravel
Provide by Vietnam Travel
You can see more
enews & updates
Sign up to receive breaking news as well as receive other site updates!