First Street Food Fest 2017 to be held in Hanoi
Published: 27/03/2017 09:58
The International Culinary and Music Festival - Food Fest 2017 will take place for the first time in Hanoi from April 7-9.
The three-day event, which is sponsored by the Vietnam Tourism Association, aims to promote Vietnamese traditional cuisine as well as to boost Vietnamese tourism and culture.
The festival will have the participation of dozens of domestic and international famous chefs with the purpose of promoting street cooking of Vietnam and bringing visitors unique street food experiences of Vietnam and some countries in the region.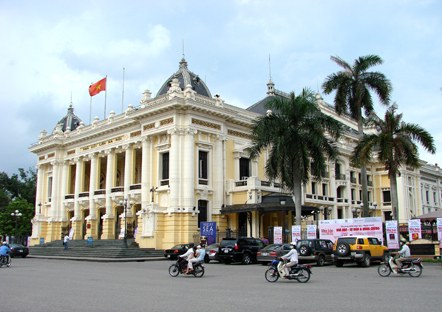 The Food Fest 2017 press conference 
According to the organisers, visitor to the festival will have chance to participate in a series of exciting activities including the Exploration of World Culinary to taste various types of foods and drinks from Vietnam, Europe and Asia; a performance by Vietnamese American chef Jack Lee; a "Music and Light" shows  with the participation of famous singers in Vietnam; and some contests for culinary lovers. Besides, there will also be some special shows such as "IONAH Show", "Bartender show", and "Wine show".
The VOV Newpaper cited Vu The Binh, vice chair of the Association, as saying that as many as 600 businesses from Southeast Asia, Japan, the Republic of Korea and Taiwan among others would participate in the event.
The opening ceremony will take place at 10 am on April 7 at Royal City's Square in Thanh Xuan District.
Provide by Vietnam Travel
You can see more
enews & updates
Sign up to receive breaking news as well as receive other site updates!