Exploring Lai Chau cuisine
Published: 06/05/2017 04:10
Lai Chau province in Vietnam's northwest is famous not only for its scenic spots but also for its cuisine.
Farming and livestock production are the main jobs of the Lai Chau people. Their daily meals involve home-grown vegetables and domestic animals. The small indigenous pig, 10 to 15 kg, is a local specialty. The pig is so small that the locals can carry it with their arms to the market. That's why they call them "carried-under-arm" pigs. The pigs eat only tree leaves and roots so the pork is delicious and lean. Steamed-pork, grilled-pork, and smoked-pork are typical cooking.
Nguyen Thanh Trung, a Lai Chau local said "Smoked-pork is a traditional dish of the mountain region. It is made only in winter because in other seasons, it's not easy to dry pork. Pork are cut into pieces and marinated with salt, chilies, and nuts for several days. After that, the pork is dried on the hangers in the kitchen until its fat comes out."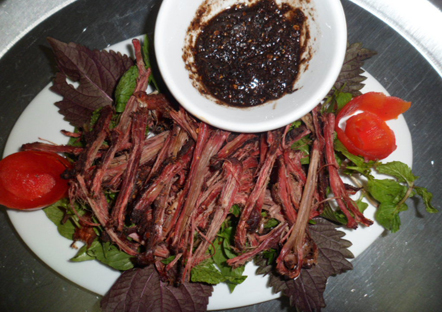 Smoked pork
Local markets are also popular destinations for visitors to Lai Chau, where they can sample purple sticky rice. To make this dish, the locals soak rice for 2 to 3 days and then dye it with a local leaf called "Khau cam" to give the rice that distinctive purple color. The rice is cooked in a wooden steamer over charcoal and then is served with pork, grilled fish, and cinnamon grilled pork paste.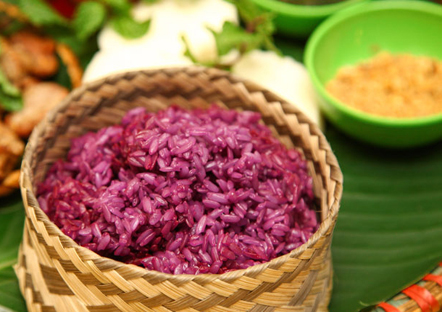 Purple sticky rice
Grilled freshwater fish is also a popular dish in Lai Chau. Fish is marinated with local nuts called "mac khen", herbs, lotus seeds, chilies and green grasses and then fixed to bamboo sticks before being grilled over charcoal.

In the villages of the Thai in Lai Chau, visitors are invited to sample bamboo shoot and bauhinia flower salads. Local people prefer to make salad from bitter bamboo shoots. They soak the bamboo shoots for 30 minutes and then boil them twice.

Bauhinia flowers, a typical flower of Vietnam's northwest, are also used to make the salad. Fresh flowers are selected and mixed with grilled fish, boiled bamboo shoots and sauce made of lemon juice, garlic, chilies, and herbs.

Nguyen Phuong Anh, a tourist from Hanoi said "The salad is eye-catching with white and purple bauhinia flowers. It has a special taste with the combination of grilled fish, buttery bauhinia flowers, bitter bamboo shoots, and sweet-sour sauce. I really like it."

Lai Chau also offers tourists other unique food made of moss. Moss soup, and grilled fried moss are often served at wedding parties. Corn wine, known as Mong Ke wine, is indispensable with the meals of Lai Chau people. The wine is made of corn fermented with leaves and millets and cooked with water of the Sung Phai stream. After distilling, the wine is shared into small jars and kept underground for 2 years which gives the wine a natural taste.

After exploring the magnificent landscape of Lai Chau, sampling local food will ensure visitors an unforgettable experience.
Provide by Vietnam Travel
You can see more
enews & updates
Sign up to receive breaking news as well as receive other site updates!