Bookings for holiday tours rise, prices steady
Published: 24/04/2017 08:20
The number of bookings for tours during the upcoming holiday celebrating Liberation Day and May Day, from April 29 to May 2, has risen by 15-25 per cent compared to the same period last year, according to tour operators.
The number of bookings at Fiditour increased by 25 per cent over the same period last year, said Tran Thi Bao Thu, the company's communication and marketing director. She said bookings for tours to foreign countries have filled up, while domestic tours are expected to close four to five days prior to departure, adding that 90 per cent of tours were booked in advance.
Package tours to Japan, South Korea and Taiwan have sold well due to good prices and easy visa applications via travel agents. A four-day tour to Taiwan and South Korea costs around VND 10 million and VND 13.99 million, respectively, cheaper than some domestic tours.
Tran Thi Viet Huong,Vietravel's communication and marketing director said Vietravel expects to serve 20,000 holiday-makers, a year-on-year increase of 15 per cent. Tours to foreign countries are almost fully booked, while 70 per cent of domestic tours have sold out. 
Besides, deputy director of Vietrantour, Pham Thi Bich Ngoc believed the long holiday and reasonable prices have increased travel demand. Vietrantour has also been working with airlines, transport service firms, hotels and restaurants to get prices that are 30 per cent cheaper than market prices for tours.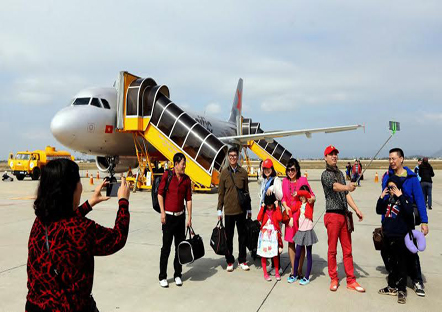 Four-day tours from Hanoi to Da Nang/Hoi An, Nha Trang, Phu Quoc and Da Lat are priced from VND 4.7-5.9 million (US $208-260). A package tour to Israel costs VND 55.9 million (US $2,470), which is as much as the return fare of a Hanoi-Israel air ticket. Tour packages from Hanoi to the Maldives have also been popular due to reasonable prices and attractive destinations.
Tran Tuan Anh, deputy director of Vietravel Hanoi, underlined the number of bookings for the upcoming holiday was expected to rise by 18-20 per cent compared to the same period last year. Tour prices have remain unchanged or are even cheaper than usual.
Domestic tours
Tours to foreign countries have outstripped domestic tours due to competitive prices, good service and the attraction of new experiences.
"Domestic tours have sunk, while foreign tours have sold out," said Tran The Dung, deputy director of Young Generation Travel Company. He added that airfares as well as prices for accommodation and hospitality services at domestic tourist destinations are more expensive than usual.
It is difficult to keep prices of package tours unchanged during the holiday due to the rising costs of plane tickets and services for tourists. The cost of plane tickets for the Sai Gon-Ha Noi route, for example, rose from nearly VND 3 million (US $132) to nearly VND 4 million during the holidays. Domestic tours to beaches such as Phu Quoc, Con Dao and Nha Trang, as well as Da Nang/Hoi An, Hanoi/Yen Tu and Ha Long Bay, have been bestsellers for the upcoming holiday period.
VNS
Provide by Vietnam Travel
You can see more
enews & updates
Sign up to receive breaking news as well as receive other site updates!