International visitors to Vietnam increase over 30%
Published: 29/06/2017 02:30
According to Vietnam National Administration of Tourism, the number of foreign tourist to Vietnam reached 6.2 million, in six first months of 2017, up 30.2% year-on-year.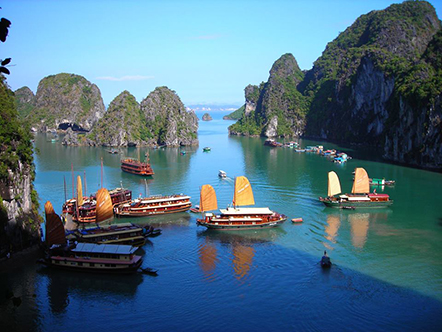 However, June saw some 949,400 international arrivals, dropping 2.4 percent compared to the previous month.
During the six-month period, arrivals by air reached 5.21 million, up 33% year on year while the numbers of visitors coming by sea and land rose by 25% and 15.8%, respectively.
The number of Chinese tourists has the highest increase, 56.7%. The Russia market came second with a rise of 53.4%, followed by the Republic of Korea, 43.9% and Cambodia, 35.5%.
The African market showed a yearly increase of 27% with 17,000 arrivals in the reviewed time.
From January to June, the tourism sector served 40.7 million domestic travelers, earning VND 254.7 trillion (US$ 11.1 billion) in revenue, a 27% yearly surge, the administration noted.
In the reviewed time, the Vietnam National Administration of Tourism held many promotional events. In particular, the agency opened Vietnam's booth at the Korean World Travel Fair (KOTFA) 2017 in Seoul, the Republic of Korea, to promote Vietnamese tourism and attract more foreign visitors.
The administration has chosen 2017 as the Travel Year, aiming to enhance service quality of travel agencies and government's management over travel operation. Accordingly, it will focus on advertising work and provide training to improve human resources quality.
NDO:  in melbourne
Provide by Vietnam Travel
You can see more
enews & updates
Sign up to receive breaking news as well as receive other site updates!