Down by the sea
Published: 21/06/2017 06:31
With a coastline of over 3,000km, beaches in Vietnam shouldn't be just about seafood, cocktail parties and be sunbathing.
In the eyes of the Vietnamese, the sea is holy, offering cooking to sustain life but threatening to take it away with a single wave at any moment.
Thanh Nguyen, a VnExpress photographer, spent five years on and offshore in central and southern coastal towns to document all aspects of beach life, and his close-ups depict the complicated relationship locals have with the sea.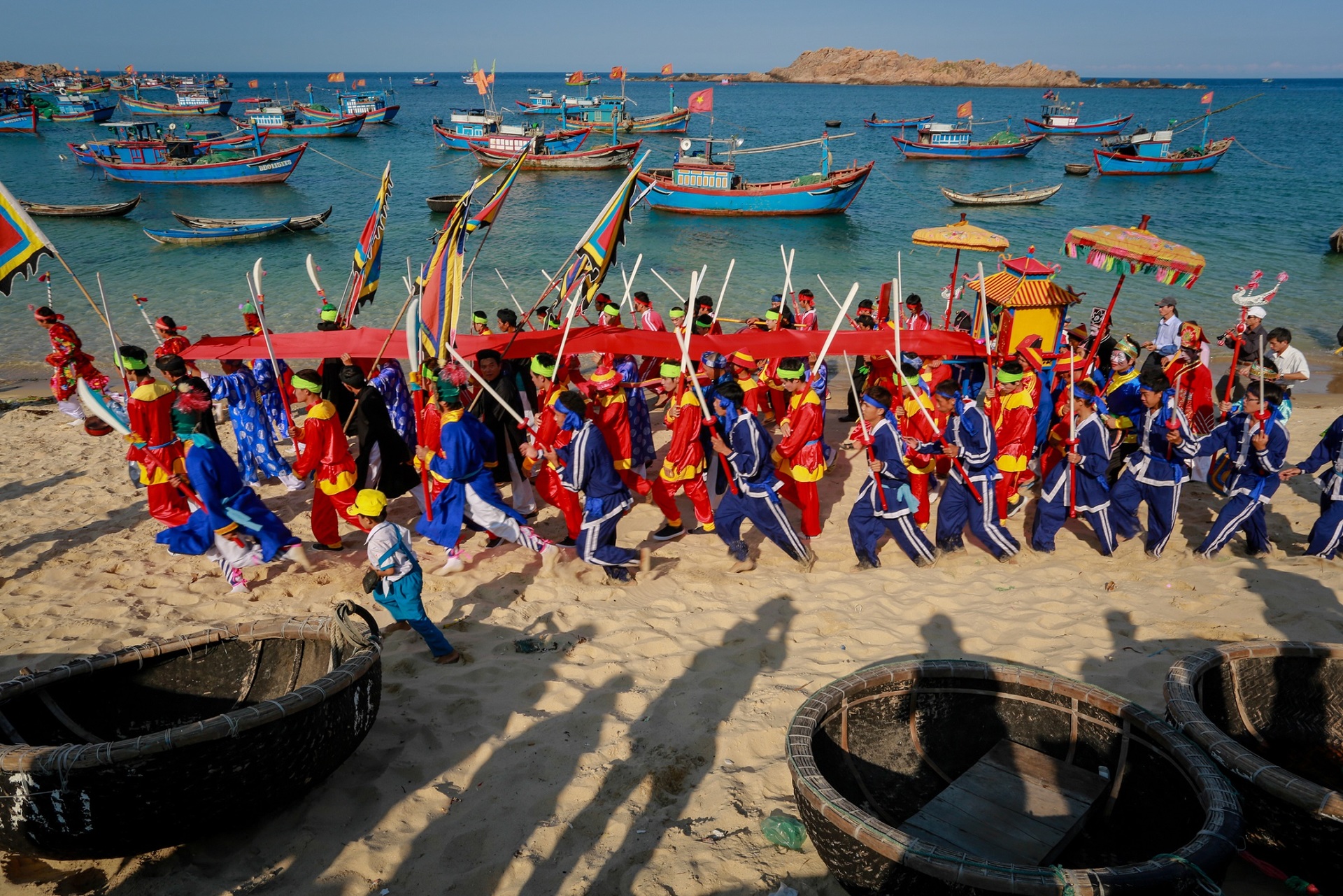 Weather-beaten fishermen in Vietnam worship the mighty whale. They believe Mr. Whale (Ca Ong) is a guardian who protects them from dangers at sea and brings them bountiful catches.
Every year on lunar February 11th and 12th, people in the coastal commune of Nhon Hai in Binh Dinh Province make a pilgrimage to Nam Hai Temple where the remains of a sacred giant fish lie. They perform rituals to the fish and pray for a peaceful and fruitful year.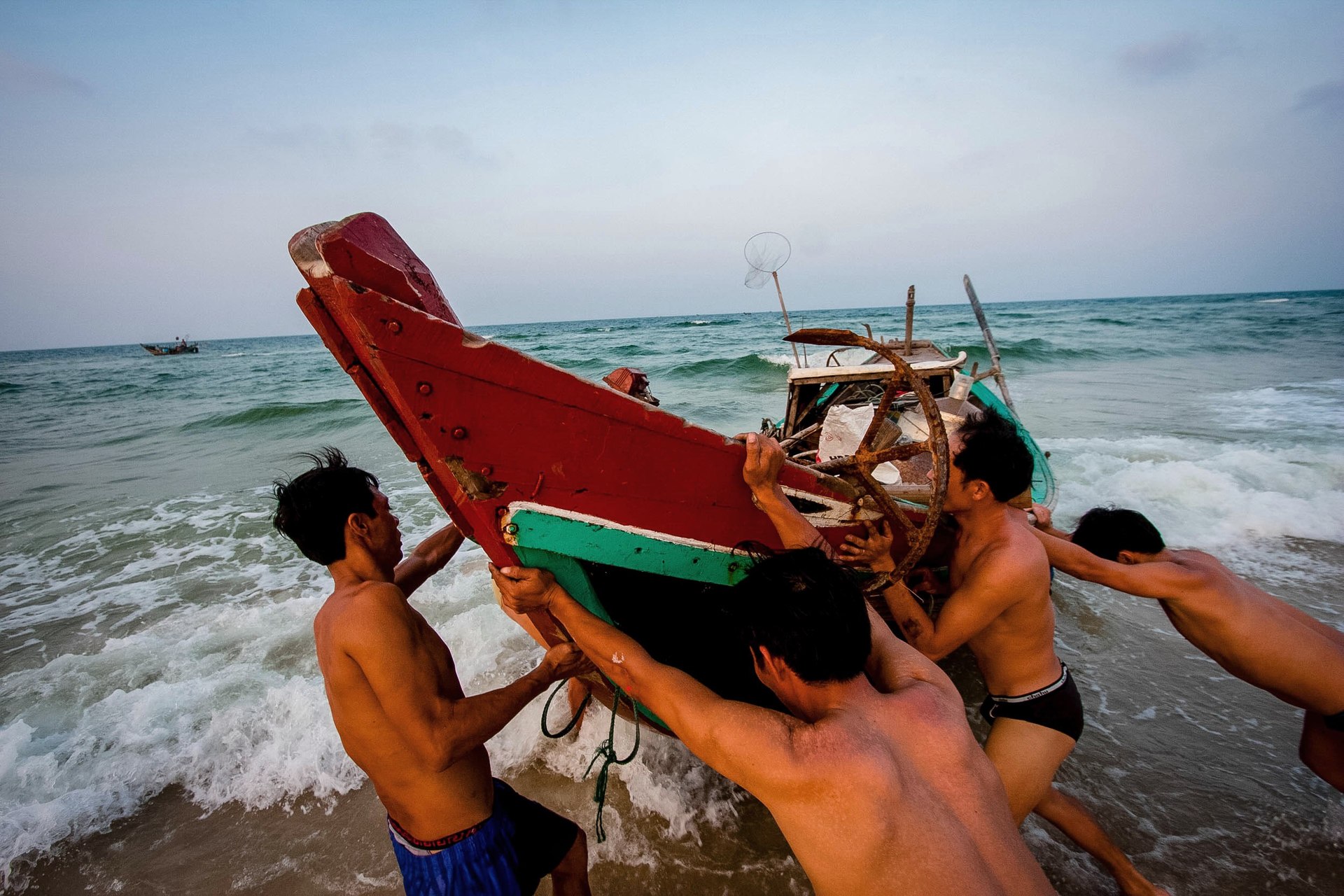 Fishermen in the central province of Quang Binh cast off, ready to set sail. Each crew has two to four members and can travel as far as 10 nautical miles out to sea.
They set off before sunset and return at 4 a.m. with fresh catches before the morning market opens.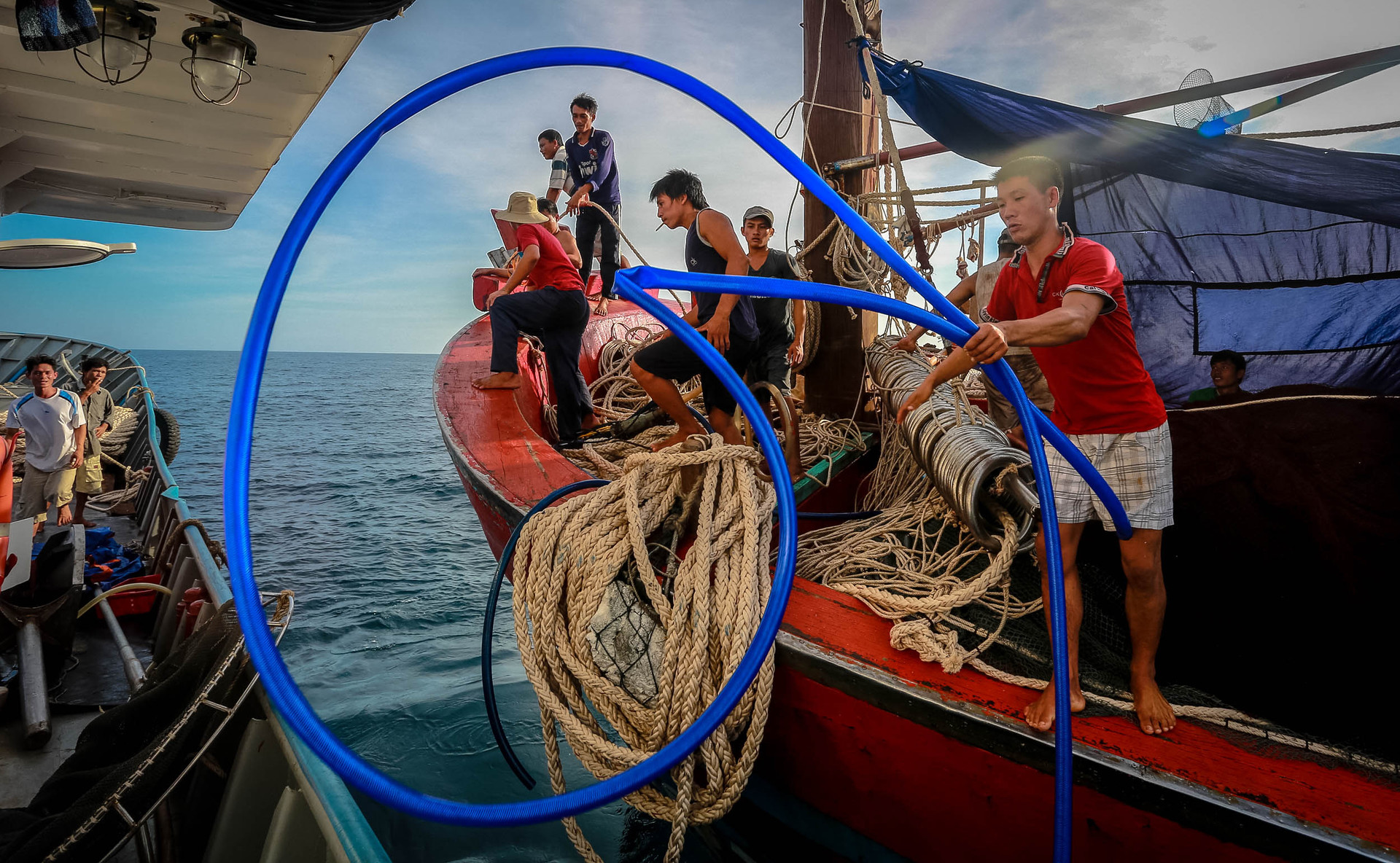 A crew member asks for fresh water from another vessel in the Gulf of Tonkin. "Deep-sea fishing can take us offshore for a month," says a captain. "anytime we meet, we help each other with food and water."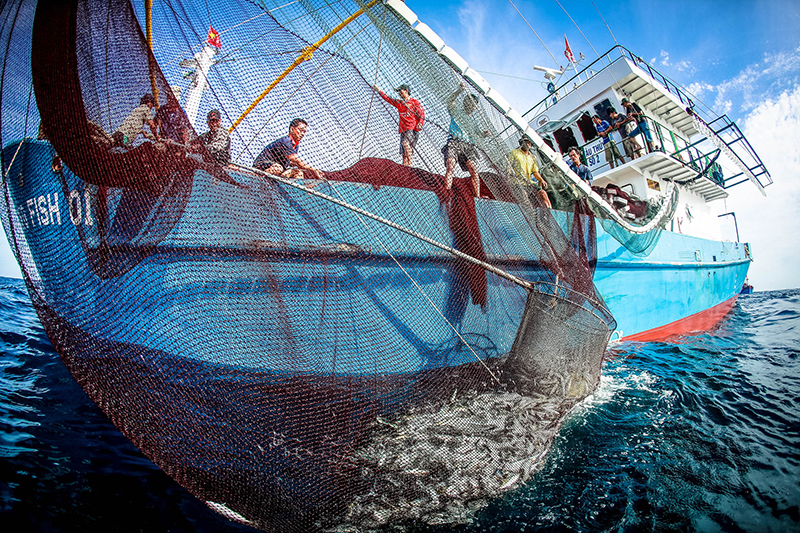 Fishermen on the Sang Fist 01 are busy with a catch in the Gulf of Tonkin. They say it is the ship's maiden voyage, and also its last. The owner has decided to return the modern, multi-billion dong steel-hulled vessel to the shipyard in favor of a wooden boat because he has encountered too many problems.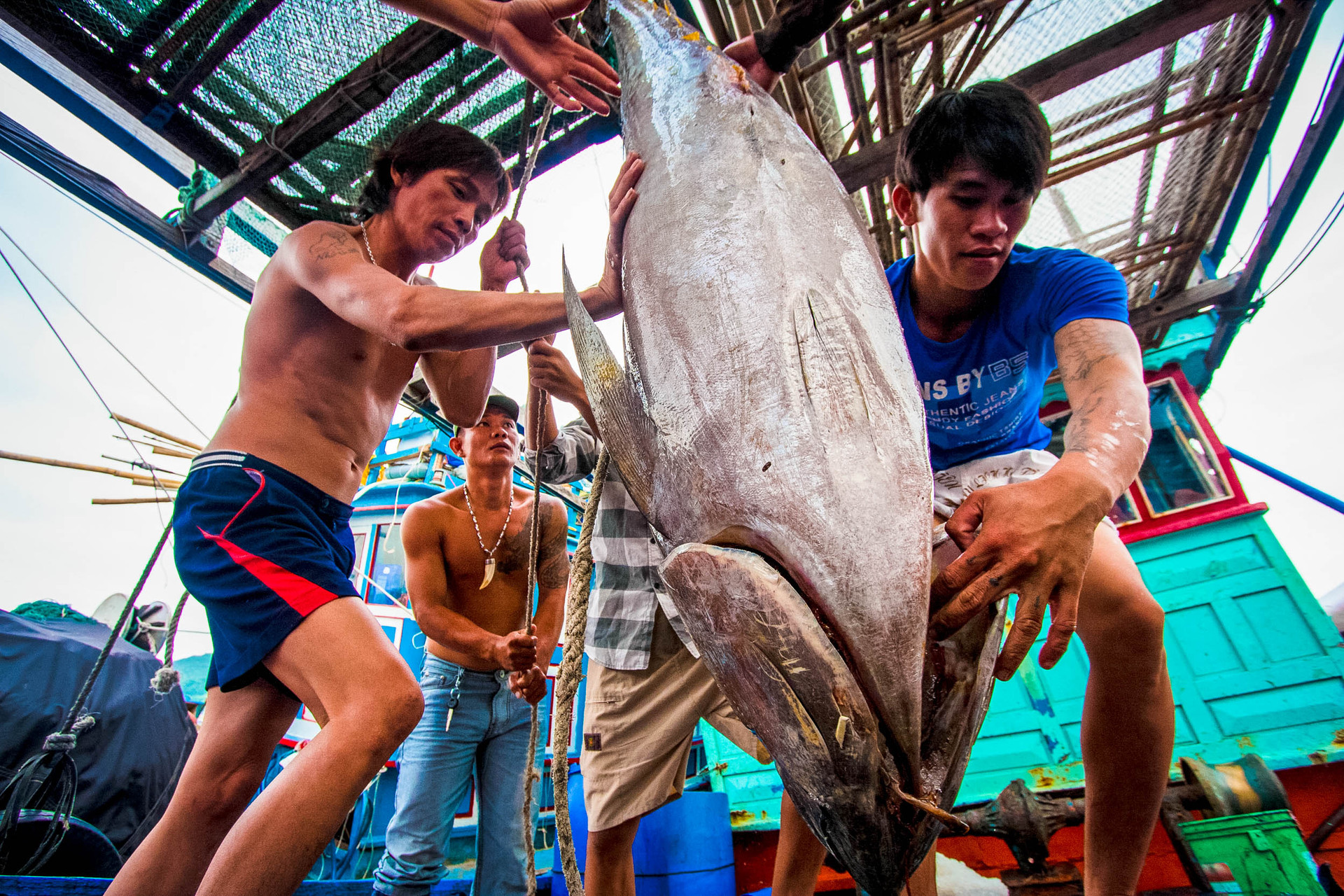 A tuna is unloaded from frozen storage at Hon Ro Port (Nha Trang) ready to be sold to traders who will pay from VND80,000 ($3.5) to VND120,000 ($5.3) per kilogram. To catch the fish, these men are at sea for up to a month around the fishing grounds surrounding the Paracel and Spratly islands.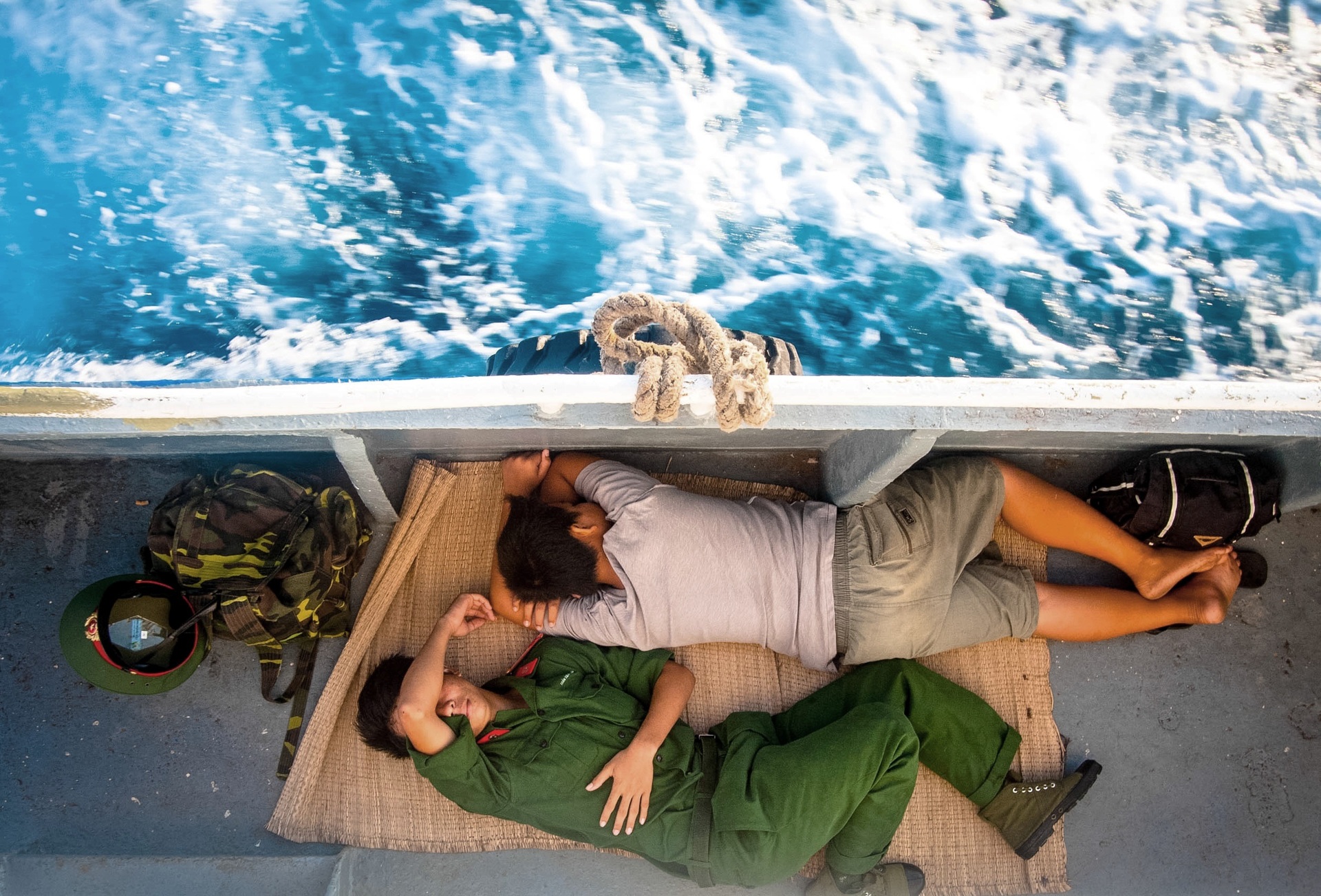 A soldier and fishermen sleep on the side of a boat on their way to Phu Quy Island (Binh Thuan Province). Many people believe it is the best way to avoid sea sickness.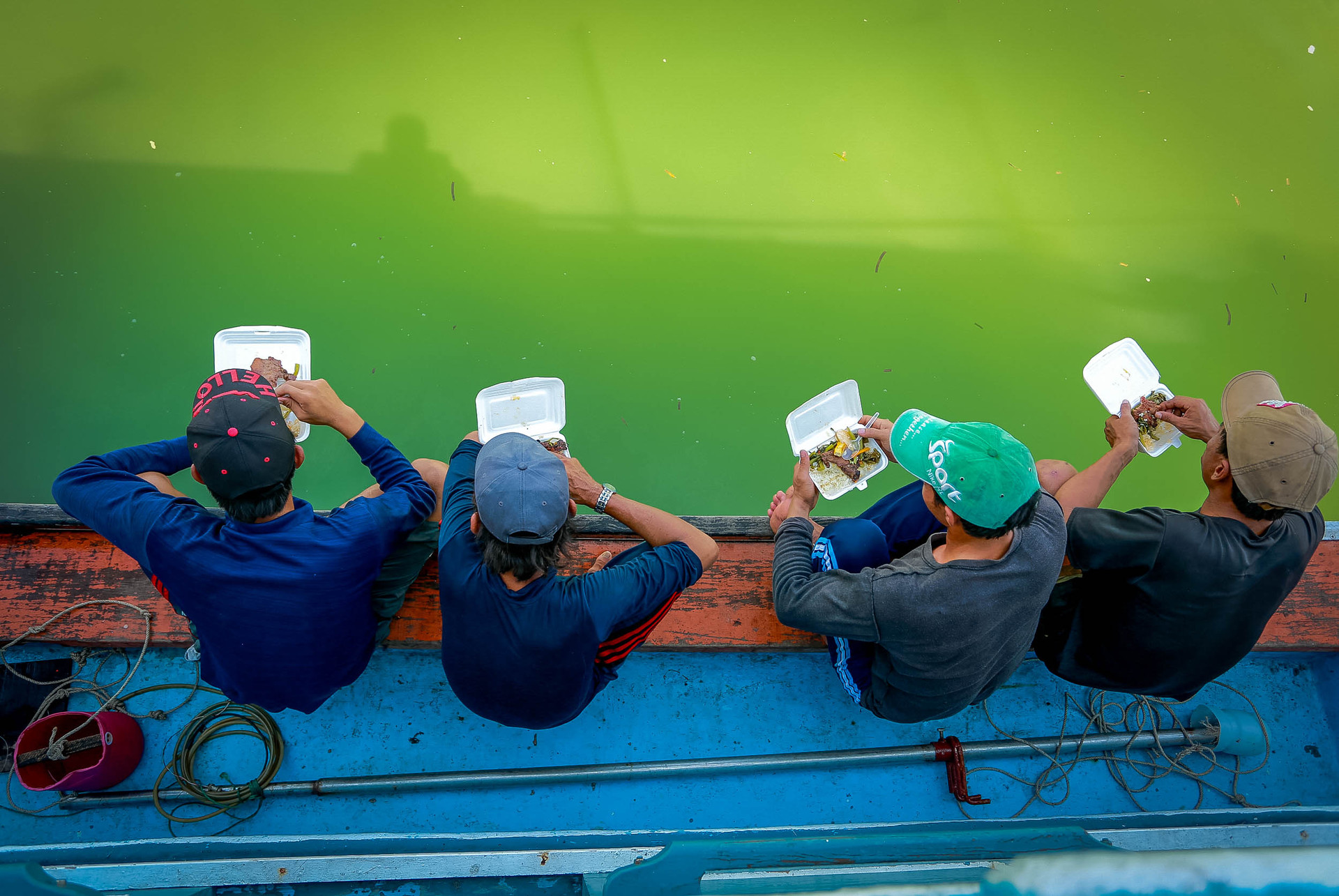 After a month of eating dried foods, these fishermen in Ninh Hoa (Khanh Hoa) finally sit down to a meal of rice and cooked meat. The locals have been hunting sharks for decades. "We don't use any modern equipment and the sharks are very dangerous to catch," said Le Van Tri, a 71-year-old fisherman. "Many of my friends have died fishing."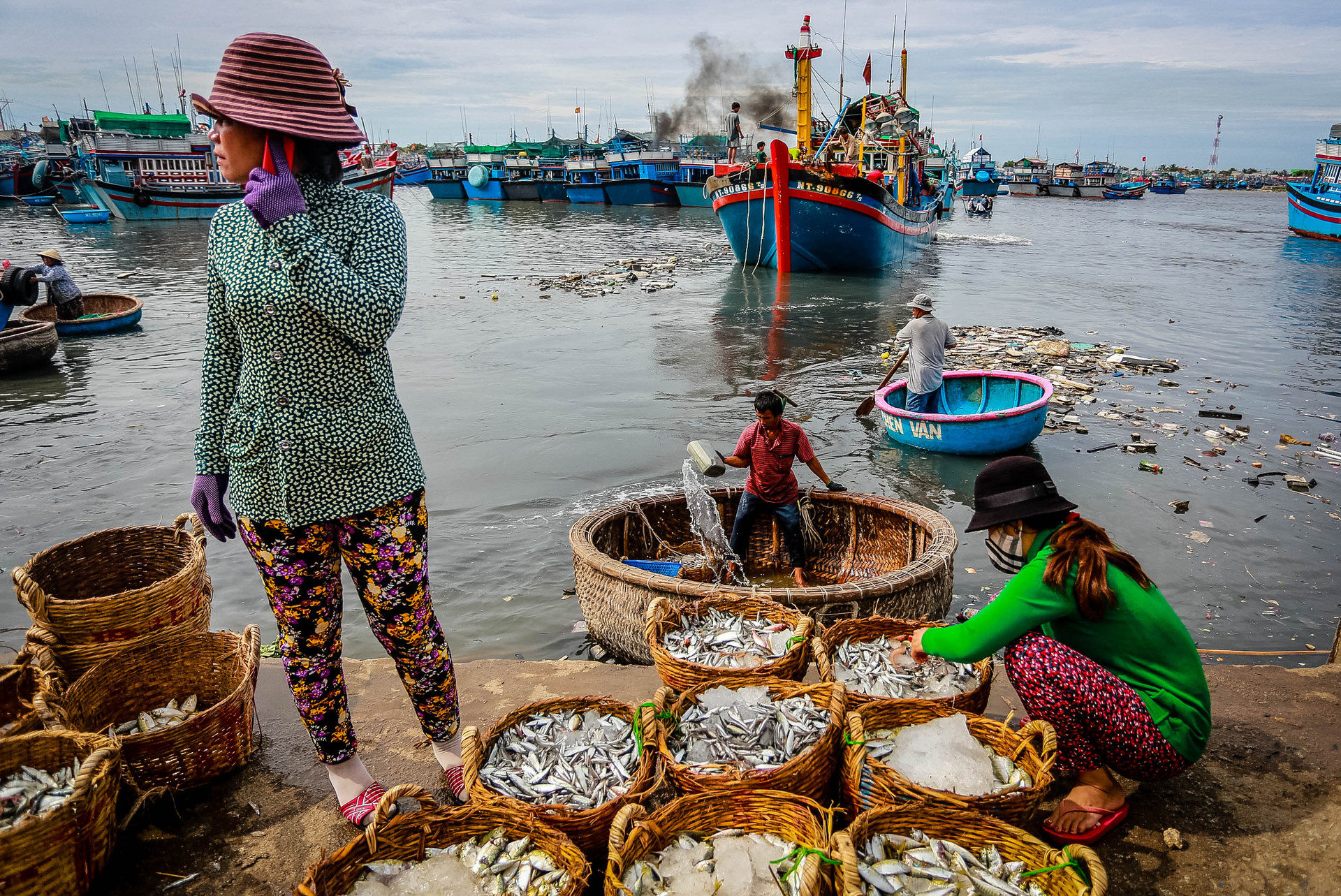 Fishermen and their families look for traders to sell their anchovies at Ca Na Port (Ninh Thuan Province). The area was about to be turned into an industrial park, but a multi-billion steel plant project was canceled earlier this year due to environmental concerns.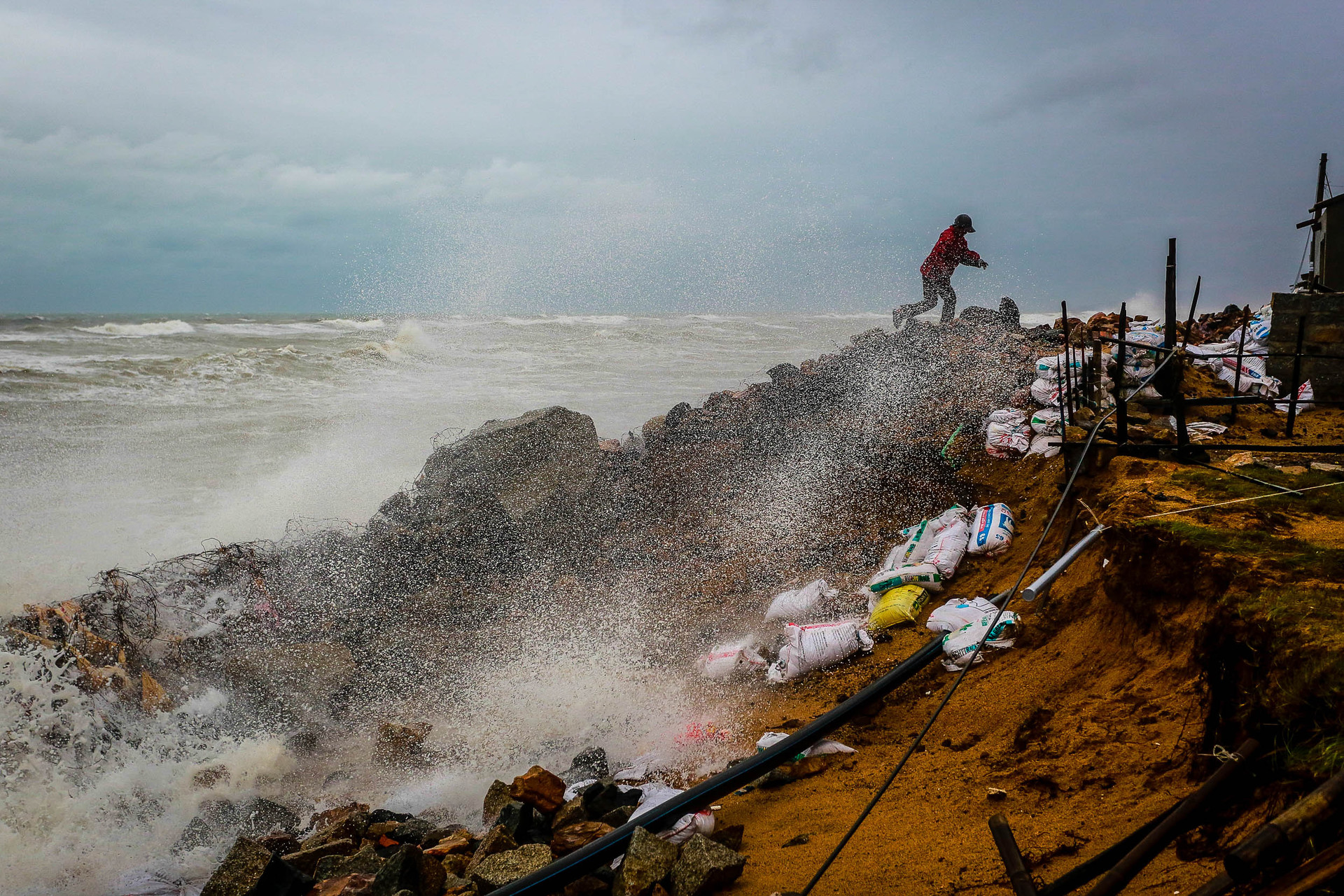 A man tries to escape a strong wave in Ro Hamlet (Phu Yen Province). Many people have abandoned their homes as coastal storms and severe erosion caused by sand mining eat away at their land.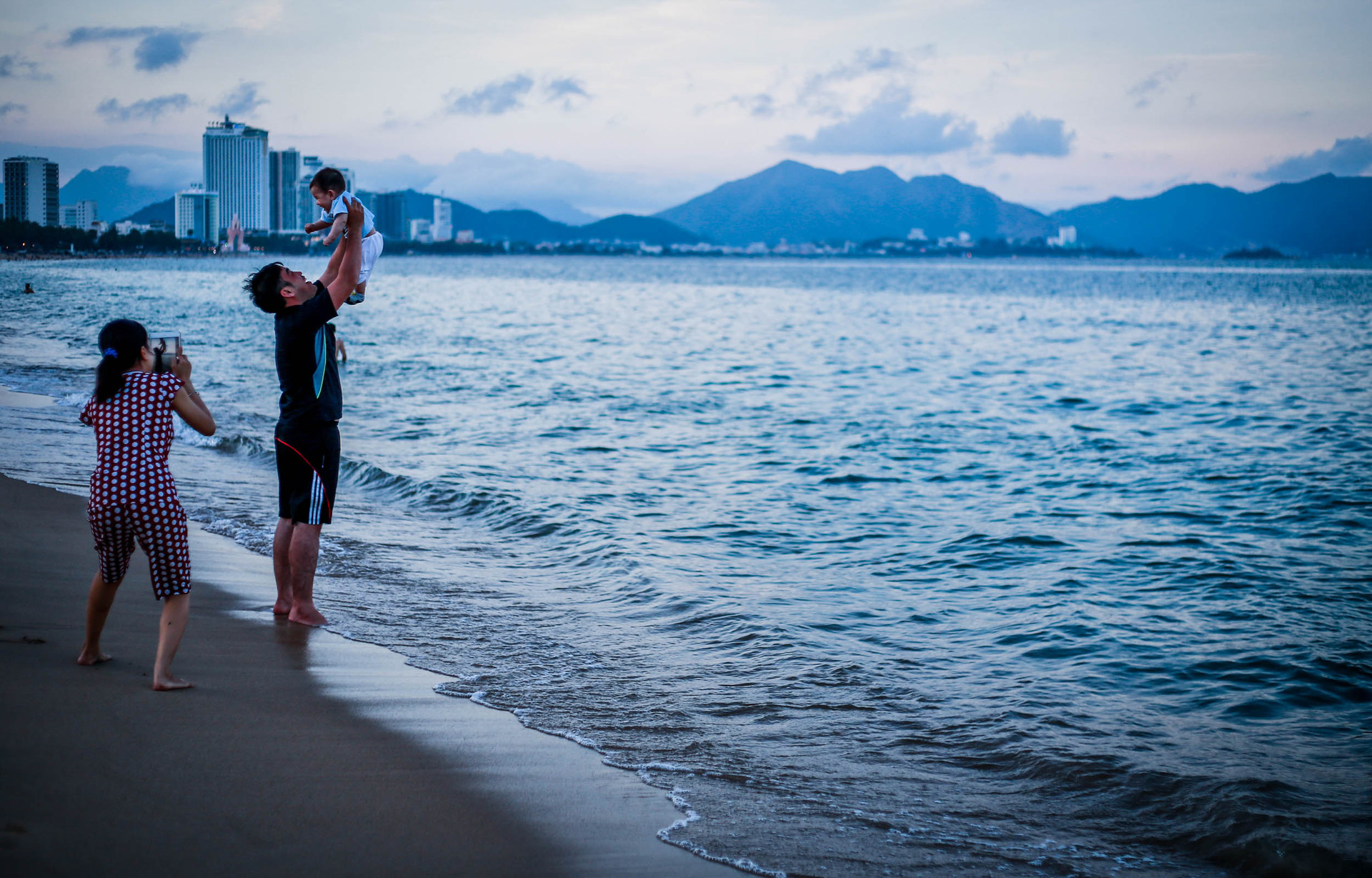 A family takes pictures at sunset on a beach in Nha Trang, a popular tourist destination in Vietnam.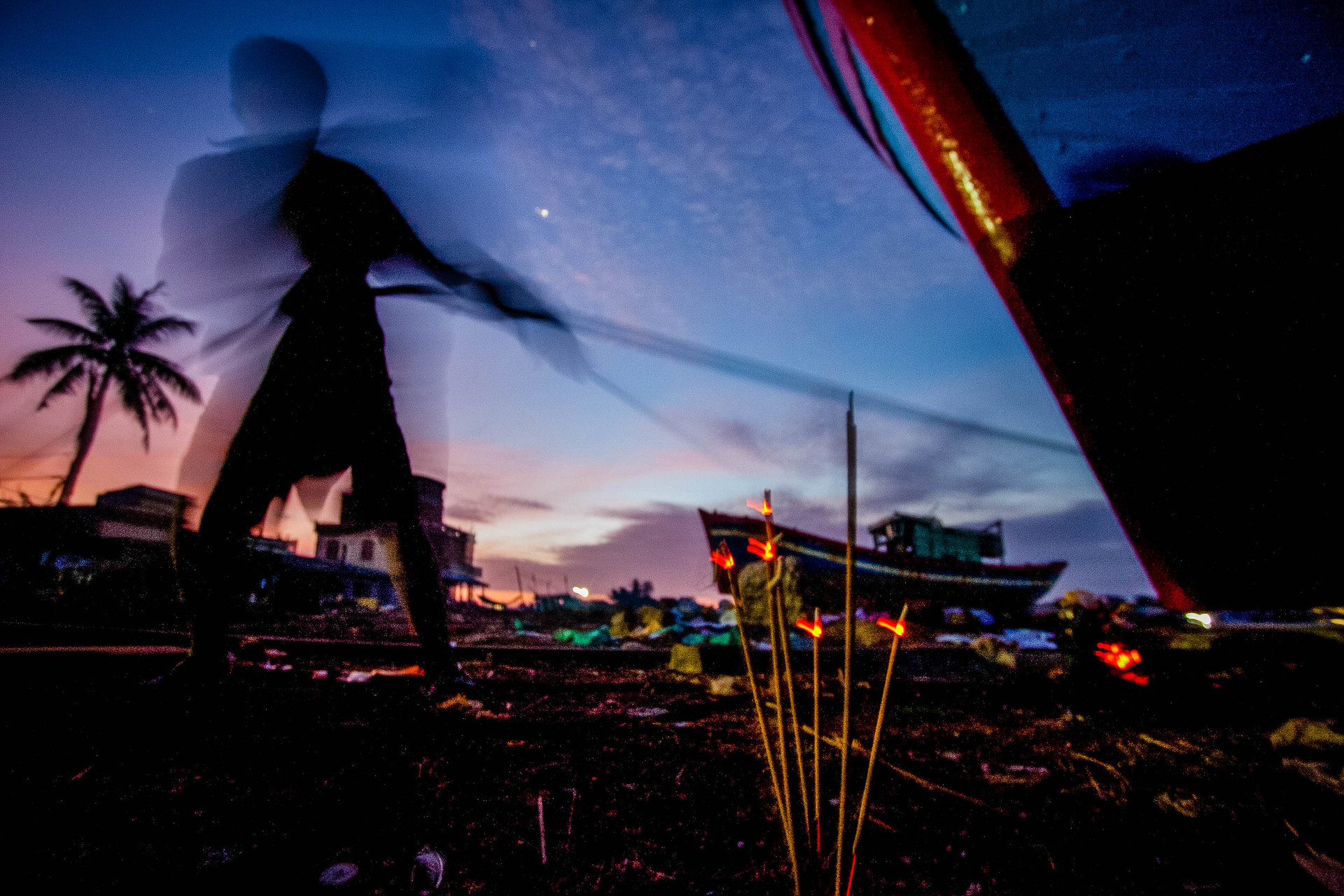 Fishermen in Quang Ngai Province always burn incense sticks to the Lord of the Sea before pulling their boats in for repairs. "Once the boat is fixed, we have to prepare offerings for the Lord," says a local. "We also choose the best time and date for the ceremonial launch to pray for lucky sailing."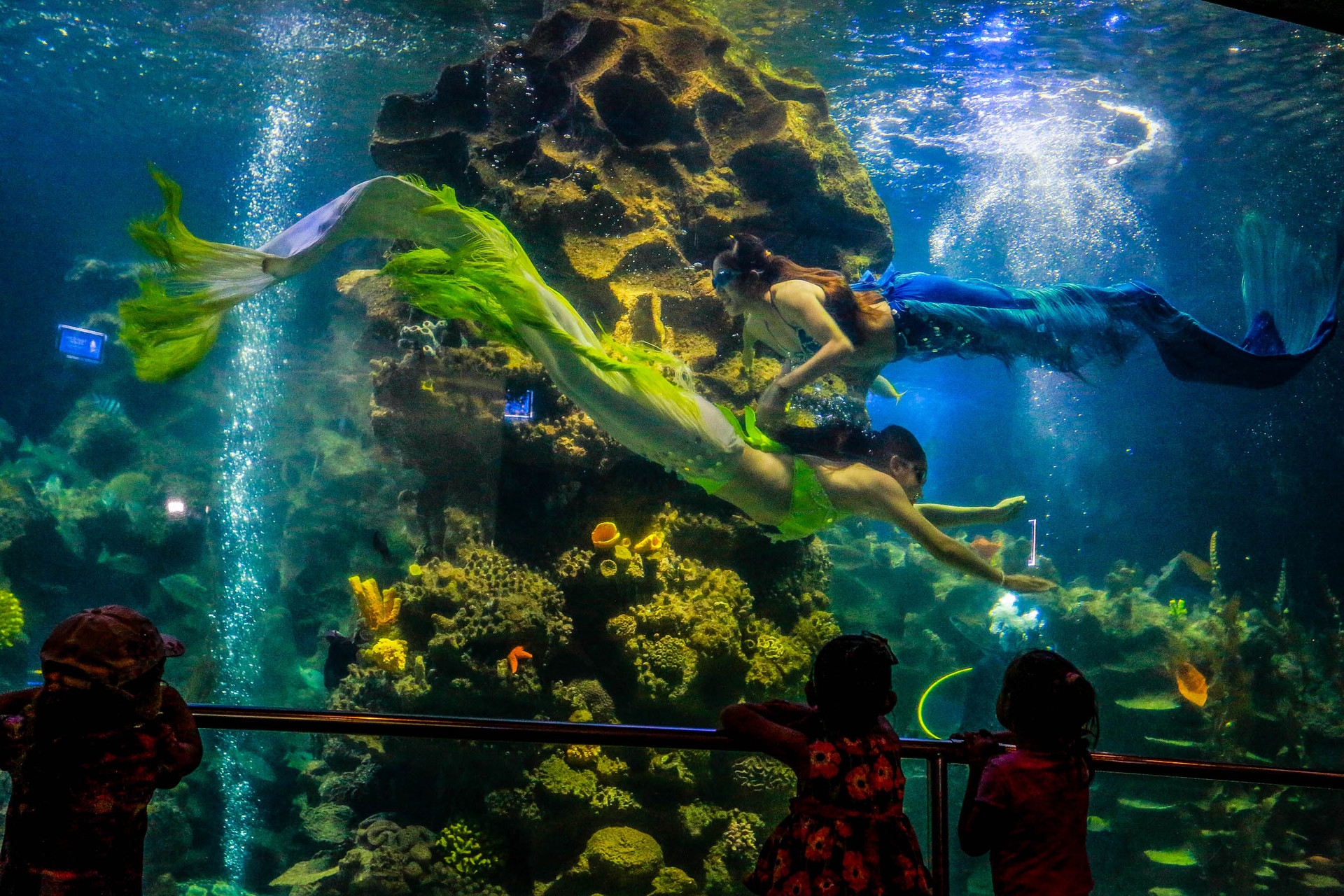 "Mermaids" Le Thi Na and Nguyen Thi My Hanh dance in an aquarium in Nha Trang. These shows are a relatively new trend in the tourist city and involve the women diving in a 6-meter-deep tank of seawater for 10 minutes. "We have to sacrifice out skin for the performance," said Na in a blue costume. "Most of us have to change jobs after two or three years." After four years, the senior mermaid decided to change careers and become a tour guide.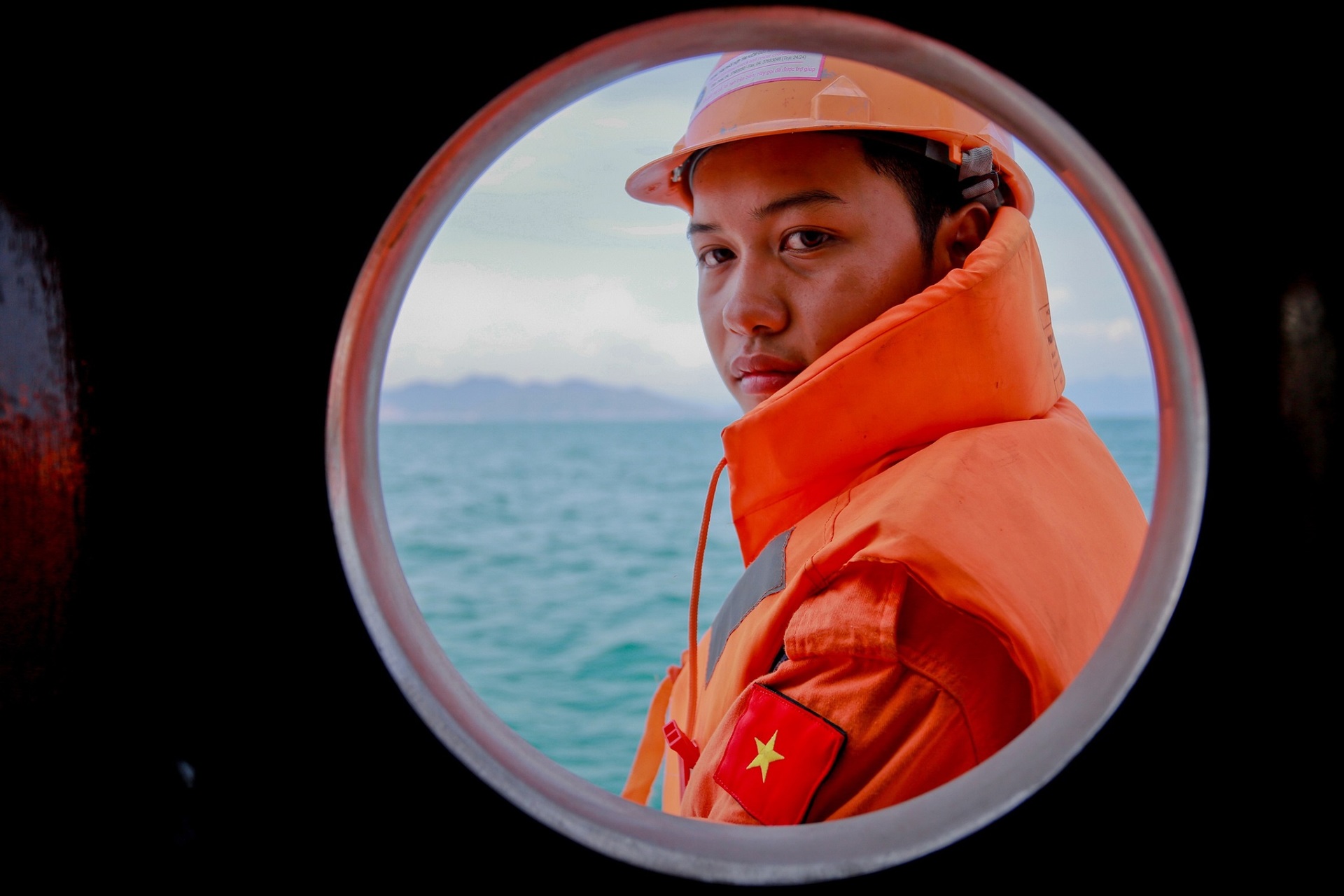 A member of the Regional Maritime Search and Rescue Co-Ordination Center No. 4 (Khanh Hoa) stands on the side of a rescue vessel. They are responsible for the roughest seas around the south-central coast and Spratly Islands.
VNE
Provide by Vietnam Travel
You can see more
enews & updates
Sign up to receive breaking news as well as receive other site updates!