Cooperation expanding between Havard University and Vietnamese universities
Published: 25/03/2017 02:10
Harvard University President Drew Gilpin Faust yesterday met with leaders of HCM City University of Social Sciences and Humanities (USSH) to extend co-operation between the two schools in the upcoming time.
USSH rector Vo Van Sen said the two universities should continue their research about sustainable development in the Mekong Delta and Vietnam's reform during global integration. "Sustainable development in the Delta is necessary since the region is strongly affected by climate change," he said, adding that more research on lifestyle and cultivation reform is needed for sustainable development.
Harvard University is the oldest institution of higher education in the US and has about 2,400 faculty members. There are many opportunities for cooperation in different fields between the university and members of Vietnam National University-HCM City, including USSH, Sen said.
Since 1991, 60 staff of USSH have received scholarships to study at Harvard University, he added.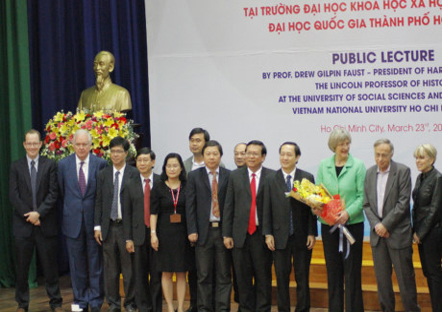 Harvard University's president said Vietnamese scholars and students were welcome to study learn and do research at Harvard. Sixteen Vietnamese students are currently studying at Harvard.
Faust said that she wanted to visit Vietnam after learning about its rapid growth.
After a discussion with leaders of USSH and Vietnam National University-HCM City, Faust spoke about the war and its impact on both countries. She said it was an important historical milestone for both countries, and like many other Americans who have traveled to Vietnam, she has wanted to make the country a society and nation with all its complexity, beauty, history, vibrancy, and promise in her mind and not the name of a conflict that overtook a generation of American people.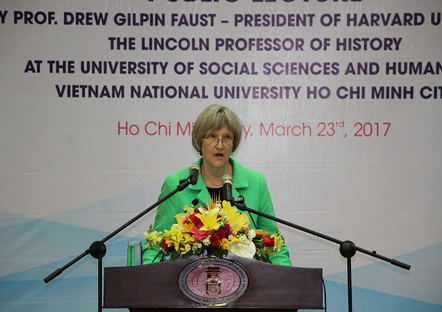 As president of Harvard, she has expanded financial aid to improve access to Harvard College for students of all economic backgrounds and advocated for increased federal funding for scientific research. Faust is the 28th president of Harvard University and the Lincoln Professor of History in Harvard's Faculty of Arts and Sciences
She has written six books, including Mothers of Invention: Women of the Slaveholding South in the American Civil War, which won the Francis Parkman Prize in 1997.
Provide by Vietnam Travel
You can see more
enews & updates
Sign up to receive breaking news as well as receive other site updates!