Travelling to An Giang
Published: 18/12/2012 02:55
It is common knowledge in Vietnam that the Mekong Delta in Vietnam has two seasons, the "dry" one between December and April, and the "rainy" one between May and November.
But when you talk to local people, they will tell you about the "floating" – or high-tide – season when more water from the Mekong Delta River flows into its tributaries in Vietnam – the Tien and Hau rivers.
Starting in the seventh month and ending in the tenth month of the lunar calendar, the off-the-book season is marked with flooded fields, but the flooding also brings alluvium that enriches the soil, not to mention the abundance fresh water produce – read fish. That all this could be lost to upstream dams in China, Laos and Thailand, and that the delta is imperiled by climate change is a sobering thought.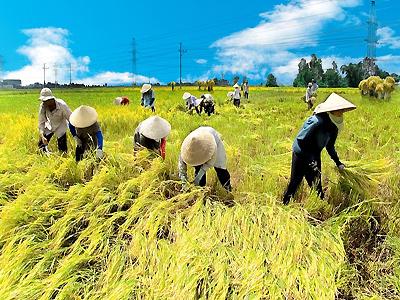 Somewhat surprisingly, the "floating" season is also a favorite season for travelers, and once you are there, you understand why. Not only does nature put her liveliest foot forward at this time, the liveliness seeps into locals as well.
It is at this time that traditional songs known as vong co (literally "longing for the past") are sung by people when rowing their boats along rivers to harvest the season's produce, including some special ones like the dien dien (Sesbania sesban) flowers. The dishes made from the special produce, including the dien dien flowers and ca linh (a fish species under the same family with carps), are also a draw.
With the season nearing its end, I decided that I could not let it go without a visit. I picked a tour to An Giang Province, which hosts the region's biggest lake and one of its most famous forested wetlands, for a high-tide season traveling trip.
Lake in the sky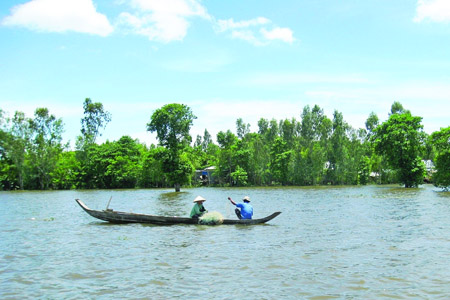 Located among Khanh Binh, Khanh An, and Nhon Hoi communes in An Phu District, Bung Binh Thien (Lake in the sky) looked out of place when we saw it. Its clean and blue water was in contrast to the muddy look of the Binh Ghi River, which flows into the lake, caused by the increase in alluvium during the high-tide season.
Vietnam travel guide explained to us that a special kind of seaweed in the four-meter deep lake helped filter the muddy water flowing into it.
Thanks to this facility, the lake is home to hundreds of species of freshwater fish and flowering plants commonly used in local cooking like water lilies and lotus. So, it is not rare to see local farmers fishing on small boats there, making the scene a photographer's delight.
Another interesting aspect of this lake is that while its area is nearly 300 hectares during the dry season, it can expand by another 200 hectares during rainy season.
However, the lake's name indicates its real character – a tranquility that locals feel makes it a transcendental place. One tends to agree, watching boats row through hanging branches of dien dien full of yellow flowers.
A mosque of the Cham people that stands near the lake adds to the sacred feeling. The Masjid Khay Ri Yah carries typical details of Islamic architecture: a dome with a white star on the top, and overturned-U-shaped doors. It has spacious interiors, numerous columns, white floors and ceilings painted blue, representing freedom and peace.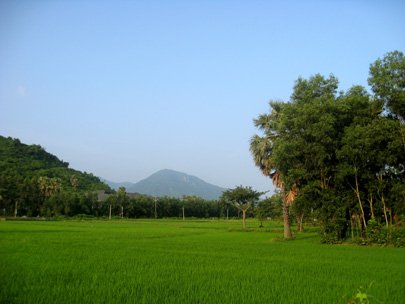 Mohammed Li, deputy chief of Bung Binh Thien Hamlet, said it is one of seven Cham hamlets in Chau Doc Town, where some 13,700 Muslims live.
After seeing the mosque, we headed for dinner at the official's house. He explained to us about the culture of the Cham people and their religion over the past two years.
He treated us to specialties of the high-tide season, like grilled ca linh with a dip made of fish sauce and tamarind, banh xeo (rice pancake) with ca linh, and the traditional Vietnamese soup, canh chua (sour soup), modified with ca linh and dien dien flowers.
We did not have to sit on the floor and eat with our fingers as the Cham do. Li had considerately prepared spoons and chopsticks for us. He also treated us to various stories about the Cham people's customs, as well as the daily life of people living around the lake.
Sanctuary wetland
The next day, we visited the Tra Su Cajeput Forest, which is located in Van Giao Commune, Tinh Bien District.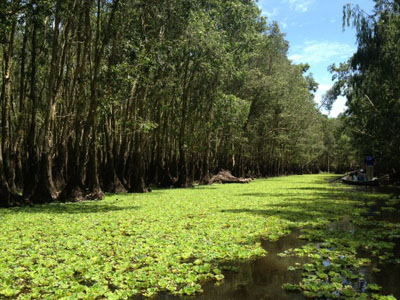 One of the Mekong Delta's largest forested wetlands, the 1,500-hectare forest hosts some 140 plant species, mainly cajeput tress, 11 animal species and 23 kinds of fish. These include red-listed wading birds like oriental darters (Anhinga melanogaster), and water birds like painted storks (Mycteria leucocephala).
During the floating season, the forest's population increases as thousands of fish and birds and many other species flock there.
When we arrived at the forest, we were in for a feast for the eyes: the fresh green of duckweed covered the water's surface, and there were lotus leaves as well. As we entered the forest on a motorboat, it felt as though we were riding on a flying carpet of green duckweed.
Later, we switched to a small rowboat to go deeper, so that we would not disturb the forest's residents with the noise of the motor. From the feeling of being on an adventure, it became a journey of peace as we slowly passed rows of century-old cajeput trees. Above our heads, birds of all kinds called to each other.
There was also a 25-meter tall tower for visitors to change their view of the forest – observing it from a height with the That Son Range in the backdrop.
Other not-to-be missed high tide season destinations in An Giang include the Vam Nao River that flows through Tan Trung Commune in Phu Tan District. Visitors also have homestay options during which they can join locals in their daily activities, rowing boats, fishing and picking dien dien flowers.
Source: thanhniennews
Provide by Vietnam Travel
You can see more
enews & updates
Sign up to receive breaking news as well as receive other site updates!