Plan for Dong Van geopark development approved
Published: 14/04/2017 06:43
A plan has been approved by the Prime Minister to develop the Dong Van Karst Plateau Geopark in the northernmost province of Ha Giang to 2030.
The UNESCO global geopark covers 232,606 hectares in the districts of Dong Van, Meo Vac, Yen Minh and Quan Ba. It was home to a population of about 283,000 in 2014, which is forecast to reach 320,000 - 325,000 by 2020 and 370,000 - 375,000 by 2030.
It welcomed 600,000 tourists in 2014. The figure is expected to increase to 700,000 – 800,000 by 2020 and 1 - 1.1 million by 2030.

Under the plan, areas in the geopark will be zoned for different purposes, including an area for geological heritage preservation, an area for nature and biodiversity conservation, one for developing sustainable natural resources and another for landscape protection.
Part of the geopark will be used to develop urban areas and tourism centres while another zone will specialise in agricultural and forestry production and hi-tech processing. An area for rural communities and another for farming high-quality herbal plants are also planned. The area for geological heritage preservation will include 30 heritage clusters in the four districts. The area for landscape protection will cover Ma Pi Leng Mountain Pass, Lung Cu Flag Tower, Can Ty commune, and Thai Phin Tung commune.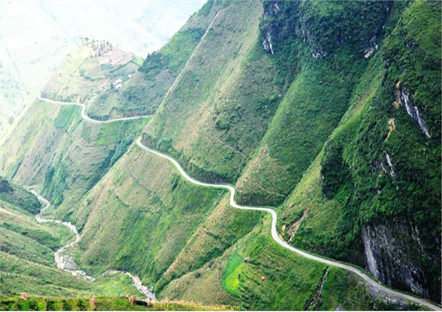 Ma Pi Leng Mountain Pass, a part of Dong Van geopark plan
Meanwhile, four urban areas are set to become tourism centres, namely Dong Van town – centre for cultural and historical tourism; Meo Vac town – centre for science and adventure tourism and border gate trade; Yen Minh town – centre for eco-tourism and green growth; and Tam Son town – centre for tourism and entertainment services.
In those areas, the construction of new structures must be restricted while existing cultural and historical facilities should only be upgraded. Meanwhile, infrastructure in residential communities, production activities, along with ecological and homestay tourism services need to be developed without harming the natural landscape and environment, according to the plan.
Dong Van plateau was recognised as a member of the Global Network of National Geoparks in 2010, becoming Vietnam's first geological park and the second in Southeast Asia.
Provide by Vietnam Travel
You can see more
enews & updates
Sign up to receive breaking news as well as receive other site updates!