Shooters face ammunition shortage ahead of SEA Games 29
Published: 18/03/2017 04:04
With less than five months from the biggest sporting event in Southeast Asia, members of Vietnam's shooting team still find themselves short of bullets to practice for the competition.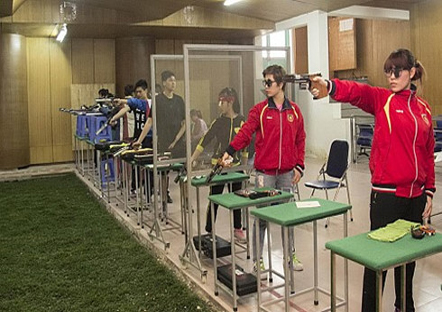 The 29th Southeast Asian Games (SEA Games 29) will be held in Kuala Lumpur, Malaysia from August 19 to 31 2017, where athletes from 11 countries in Southeast Asia will gather to compete in 38 sports.
Since shooter Hoang Xuan Vinh made history for Vietnam at the 2016 Rio Olympics by winning the country's first-ever gold medal at an Olympic Games, the sport has gained popularity among Vietnamese athlete-wannabes and attracted significant attention from local sport officials.
However, media attention towards Vinh's success has revealed that Vietnam's national shooting squads have been faced with a serious shortage of practice bullets in recent years, forcing shooters to hone their skills while using as few rounds of ammunition as possible, or without any at all.
Last year, Prime Minister Nguyen Xuan Phuc ordered that the bullet shortage be solved as soon as possible, but the task has proven tougher than expected, even after a military-run firm had been assigned official supplier of bullets used in sports.
According to Tran Quoc Cuong, a member of Vietnam's shooting team to compete in Kuala Lumpur this August, the squad was still "going without" bullets during training sessions as the competition neared.
Usage of the few bullets they had in store had been extremely economical, as the squad needed to save however many they had left for the real competition, according to Nguyen Thi Nhung, the team's head coach.
Meanwhile, Vietnam's top shooters like Hoang Xuan Vinh and Tran Quoc Cuong are having it no better, as they are also practicing without bullets to prepare for the upcoming World Shooting Championships in Germany in May.
Huynh Phuong Loan, head of Ho Chi Minh City's shooting team, said a couple of the team's members have been forced to retire after two or three years of practice due to the serious ammunition shortage.
Starting December 2013, under a joint decree issued by the Ministry of Public Security and its sports counterpart, companies must pass the bidding process to be able to supply sporting weapons in Vietnam.
In 2016, a military-owned corporate won the bid to supply sporting ammunition to Vietnamese teams, but the shortage has not been much improved since.
An official from the General Department of Sports and Physical Training attributed the country's strict regulations on the import of ammunitions to the delay in purchasing bullets from foreign suppliers.
"According to quotas stipulated under a government decree, the country may import only VND46 billion [US$2.05 million] worth of sporting ammunition in 2016," the official said.
"On average, an ammunition order takes 45 days to complete."
"It will not be until the end of March that the first shipment of bullets will arrive in Vietnam for distribution to local teams," he said.
Tuoitrenews
Provide by Vietnam Travel
You can see more
enews & updates
Sign up to receive breaking news as well as receive other site updates!