Vietnam take on Afghanistan in Asian Cup qualifier.
Published: 28/03/2017 06:35
Vietnamese coach Nguyen Huu Thang yesterday affirmed his team would put in all efforts to win their first match at the 2019 Asian Cup's last qualifier.
Thang was speaking at a press conference prior to the match against Afghanistan in Group C, which will be organised on the neutral stadium of Republican Central in Dushanbe City, Tajikistan, tonight.
"We cannot afford to look down on Afghanistan, who are being coached by German Otto Pfister. He has grabbed remarkable results in his career. Under his reign, teams such as Saudi Arabia earned a berth in the World Cup finals. I myself believe that they are currently a strong team," said Thang.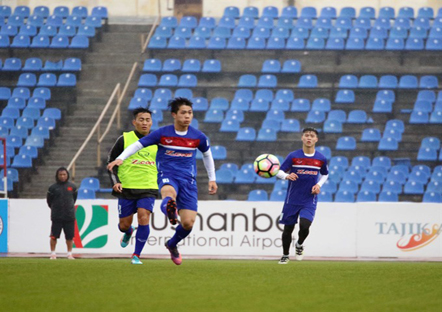 The Vietnamese coach highlighted the strong physique and short ball playing style of the Afghanistan players. They have seven players competing in German leagues, but Vietnam still has a chance to win. He added: "Vietnam are in the process of rejuvenating themselves. Some of their key players have left. My young players were affected by a 30-hour flight to arrive in Dushanbe, but we will do our best for a win tomorrow," 
Captain Đinh Thanh Trung also took part in the conference yesterday.
The midfielder said it was the first time that Vietnam would play Afghanistan, a strong team. Both sides have a an equal 50-50 chance of winning. He hoped that Vietnamese players could bring into play all their strong points to get the upper hand in the game.
Thang and his players had nearly three days to get familiar with the artificial grass at the Republican Central stadium. It is said to be an objective challenge for the Vietnamese team, as most of their players have not competed on artificial grass before.
The last time they played on such a surface was at the Southeast Asian Games in 2015 in Singapore. However, only seven players from that team will be playing in this match.
"It is artificial, but it is not very different from real grass. I think our players will be able to adjust to it. It is not a huge problem for us," said Thang.
When asked how Vietnam handle pressure from Tajikistan fans who would be cheering Afghanistan, their neighbours, Thang shared that pressure from the stands was normal in football, and his players were used to be in such situations.
When asked to share his opinion in case of a loss to Afghanistan, he said it would bring many difficulties to Việt Nam, as their next rivals were the group's strongest team Jordan, who are expected to book their berth in the Cup's final.
Thang said: "Jordan are the strongest team in Group C. However, in that match, we will be playing on home turf, which is a great advantage. I still believe that Vietnam, Jordan and Afghanistan are vying for the top place. It is difficult to guess anything in football. Cambodia have showed that they have improved, and they may spring a surprise,"
The match will be aired live on K+ channels from 9 p.m.
VNS
Provide by Vietnam Travel
You can see more
enews & updates
Sign up to receive breaking news as well as receive other site updates!