Explore Trang An festival, Ninh Binh
Published: 14/04/2017 10:14
Coming to Ninh Binh, you may not miss Trang An which is a UNESCO world heritage. Trang An is known as a cultural landscape, the first scenic landscape complex in Vietnam in particular and in ASEAN in general. This place is famous for Trang An festival with respectful and advertising activities in order to bring Trang An's image to the world.
The festival is annually held in the third lunar month with prominent activities like water parade, palanquin parade on the river with a view to respecting the philosophy "Gratitude is the sign of noble souls", expressing grateful, worshiping Saint Quy Minh Dai Vuong who deserved well of our country, protected the country from invaders. 
Trang An festival has nearly 1000 ships to help visitors contemplate masterpiece of the nature, enjoy the stunning beauty of "Ha Long Bay on land". They are fresh and clean lake, caves full of stalactite which imprinted one-time Hoa Lu Capital. Rare are Trang An which owns terrain with "mountains are rampart, rivers are road and caves are court", all of them make tourists be gradually infatuated on the trip.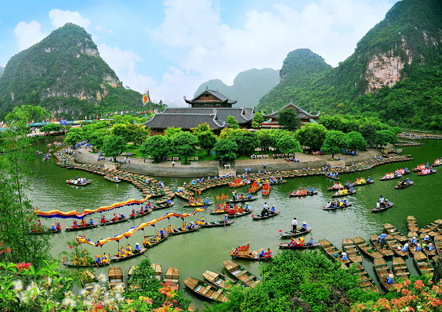 This year take place the festival in 13 - 15 of April, converging folk songs recognized by UNESCO as intangible heritage from provinces and city in Vietnam such as: Ha Giang, Tuyen Quang, Phu Tho, Bac Ninh, Nghe An, Hue city, Buon Ma Thuot, Can Tho, Ha Nam, Nam Đinh, Thai Nguyen. Folk songs mentioned are "then" singing, "xoan" singing, "quan họ" (love duet) singing, nhã nhạc of Hue court (nhã nhạc cung đình Huế), music of amateurs (đờn ca tài tử), etc. 
The official site of the festival this year is in Suoi Tien Temple. You can also enjoy eye-catching and appetizing specialities. 
A new point this year is that the background of the film "Kong- Skull island" will be retraced in the Trang An ecotourism area where the film has some scenes.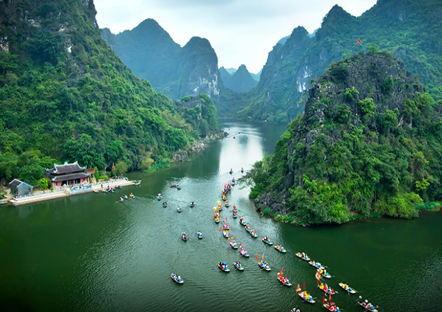 Trang An festival, together with the Trang An scenic landscape complex is hopeful to be a spiritual tourism and the must-not-be-missed destination for both national and international tourists. 
Provide by Vietnam Travel
You can see more
enews & updates
Sign up to receive breaking news as well as receive other site updates!