Tam Thanh Beach to host International Kite Festival 2017
Published: 17/04/2017 06:54
More than 100 craftsmen from Canada, the US, Germany, Japan, Thailand, Indonesia, Malaysia, the Republic of Korea, China and Vietnam will take part in the International Kite Festival in Tam Thanh commune, Quang Nam province from June 5-9.
According to Le Ngoc Ty, Vice Chairman of the Tam Thanh People's Committee, the craftsmen from eight countries and territories will bring their handmade kites and demonstrate the traditional craft on the pristine beaches of Quang Nam province. This is also the opportunity to demonstrate kite-making skills, kite decoration and kite flying of every country.
Several folk games, sports events and beach games will also be held on the beach during the festival and continued throughout the summer break.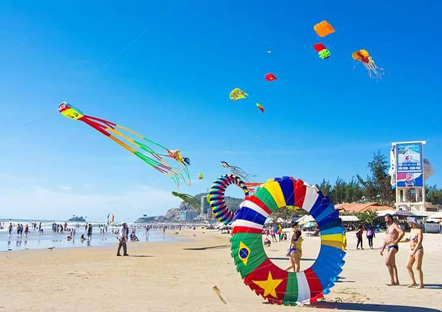 The International Kite Festival 2016
Vice chairman Ty said the kite festival is a part of activities series under the auspices of the 2017 Quang Nam Heritage Festival that is being held in many cities and districts of the province throughout June.

The commune and Tam Ky city are also hosting an exhibition on the seas and islands of Vietnam, traditional folk performances of central Vietnam, and a demonstration of the nation's UNESCO-recognised intangible heritages.
Tam Thanh commune, 10km east of Tam Ky city, is known as the first locale in Vietnam to have colourful murals painted on its moss-covered walls by artists from several foreign countries. The murals attract 500 tourists each day to the commune.
Provide by Vietnam Travel
Tam Thanh Beach to host International Kite Festival 2017 - Festivals and ceremonies - Vietnam culture | vietnam travel company
You can see more
enews & updates
Sign up to receive breaking news as well as receive other site updates!