Vietnamese lotus tea, a quintessence gift of nature
Published: 07/04/2017 08:27
Vietnamese lotus tea is a type of green tea that already absorbed the scent of lotus which is a type of flower that grows in a lake, and it symbolizes beauty, purity, and good fortune in Vietnam. Vietnamese lotus tea is considered as symbol of tea culture in the country, contributing to the tea culture of the world.
Vietnamese lotus tea becomes the spirit of Vietnamese culture that brings philosophy and respect. an ideal place to enjoy Vietnamese lotus tea is under  the eaves. Traditionally, tea drinkers cross their leg, sit on the timber trestle bed, contemplating the scene,recite a poem, talk, sometimes deep in talk and enjoy lotus tea.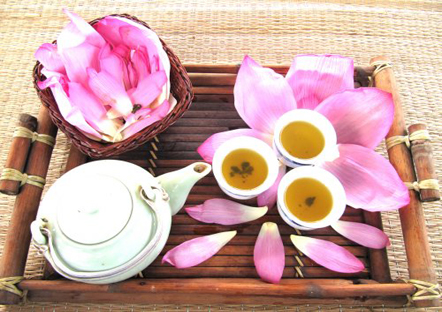 Lotus was originally created in the Nguyen Dynasty during the 19th century, in dedication of King Tu Duc. At night when the nectar was at its fullest, the servants would row out in the lake where the lotus blossoms grew. Very carefully and gently, they would peel back each fragile petal of the blossom and fill it with green tea.  Then the flower was closed up, and the petals bound with ribbon or silk string, keeping the tea safe and dry as it absorbed the scent of the lotus overnight, but that not the end, early in the morning, they rowed out again not only to collect the tea but also to gather nighttime dew, just enough for a single tea pots. Using a high-grade green tea base from the highland of Vietnam, the Lotus will scent the tea with its luscious fragrance, produces a lovely, sweet aroma, with hints of vanilla tea. Due to the natural process of making lotus tea, it is considered an art in Vietnam.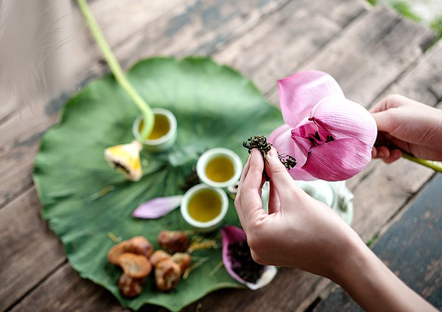 Lotus tea is often served hot and it has a crisp, clean flavor, with a hint of vanilla, and sometimes even a slightly bitter aftertaste of anise seed, lingering in the mouth. Anyone who enjoy this kind of tea will never forget the special flavour hide in each teacup. 
Provide by Vietnam Travel
Vietnamese lotus tea, a quintessence gift of nature - Vietnamese Drink - Food & Drink | vietnam travel company
You can see more
enews & updates
Sign up to receive breaking news as well as receive other site updates!