Khuc cake (banh khuc), a traditional food of Hanoian.
Published: 28/03/2017 09:17
"Khuc cake", also known as "banh khuc", or "xoi khuc", is one of stunning Vietnamese Dessert Recipes that original in Red River Delta. There are many types of sticky rice, each of them own special tastes, it is delicious and very attractive. Besides, khuc cake is absolutely tasty and popular, Hanoi people also use this dish in the morning as breakfast, it is also sold by vendors on the pavement, or in dessert restaurants.
The cake is a rice ball made of glutinous rice mixed with cudweed - most important ingredient and filled with green bean paste, pork, and spices. Cudweed grows during lunar January and February, when the drizzling rain lasts all day, and it can be found along the edges of rice fields. There are two kinds: "nep" (sticky) and "te" (non-sticky). The latter is more flexible and fragrant and is preferred for making the cake.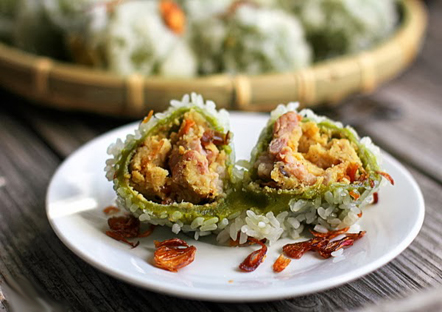 The recipe to make this cake is not difficult. Before making it, you have to prepare ingredients: pork, mung beans, sticky rice, cudweed, pepper, spices, fish sauce, maggi's stuff and glutinous flour. Please follow recipe with 4 steps below: 
Step 1:
- Glutinous rice soaked 6-7 hours in advance. Then washed, drained and soak with salt or maggi's stuff. 
- Mung beans soaking about 1-2 hours to hatch washed, steamed, when they are still hot, take out and crush them out. Then mix a little spice to mung bean part.
Step 2: 
- Sliced pork in small thick, marinated with a little fish sauce and pepper. Fried pork until cooked.
- Washed cudweed, add them into the blender with little water and grind to become a powder consistency. Remember not to put too much water on grounding. Add cudweed ground into with glutinous flour, knead them well. At this time, control the powder, the mixture is neither dry nor wet, just enough to not sticky.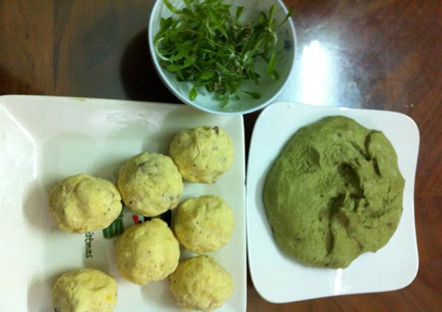 Step 3: Make fillings
- Make mung beans with pork into round balls to moderate. Divide it into parts.
- Divide the sticky dough into the corresponding section, press it into quite thin to wrap outside the mung beans.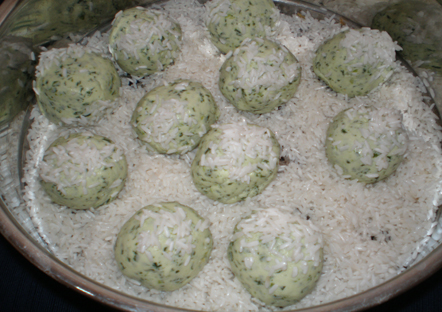 Step 4: Steam cake
- Put the cakes on top and sprinkle with alternating sticky rice cakes to the cake does not stick together.
- Steamed cake for about 30 minutes is cooked, it is ok when check that the sticky rice is soft.
Finally, enjoying khuc cakes, people can feel not only its soft, good-smelling, greasy taste in this popular breakfast. Khuc cake is better when be covered in banana leaf. Besides, you can add roasted sesame if you like on the surface of this cake.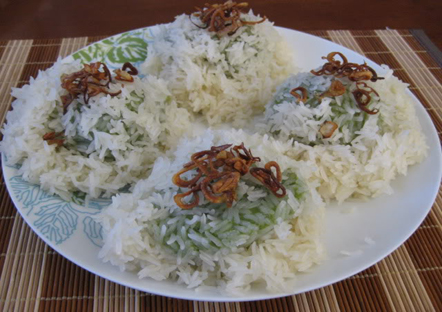 Wishing to have the chance to satisfy your hunger for "banh khuc", you can visit cake stall at 69 Nguyen Cong Tru Street, that has been churning out "banh khuc" for years. Ms. Nguyen Thi Lan, the seller, has to hire locals in rural areas in Hanoi or in neighbouring provinces to seek out the elusive cudweed. In winter, it grows in abundance so enough has to be collected to last the summer. The surplus will be dried and stored.
If you are in the old quarter of Hanoi, you might hear someone cry "Ai banh khuc nong day?" (who wants hot "banh khuc"?). You can stop them and ask if the "banh khuc" is from Ngoai Hoang village in Hanoi, a place that is famous for having the most delicious and tasty "banh khuc". Then, you can buy one for tasting. The cake should be served hot and dipped into a mixture of roasted and crushed sesame seeds and salt.
Provide by Vietnam Travel
You can see more
enews & updates
Sign up to receive breaking news as well as receive other site updates!