The unforgetable taste of Quang noodle
Published: 25/04/2017 08:11
Among the unique dishes in Quang Nam, Quang noodle seems to be the famous dish that attracts visitors to this central province.
It is highly recommended that visitors should not miss the chance to enjoy the true taste of this signature dish in Phu Chiem, an area in Triem Nam Village, Dien Phuong Commune in Dien Ban District that is claimed to be the birthplace of the noodle. Visiting Hue city or Hoi An is also the best chance to enjoy Quang noodle. 
What makes a bowl of Quang noodle in Phu Chiem special is the broth, which takes a lot of effort to make. First of all, people boil peanuts and then ground them to extract milk, which is then mixed with ground meat of paddy field crabs. After that, the mixture is cooked with shrimp that is roasted with salt and mixed with peanut oil for a while. The broth is then added with fat and lean meat and cooked for 15 more minutes.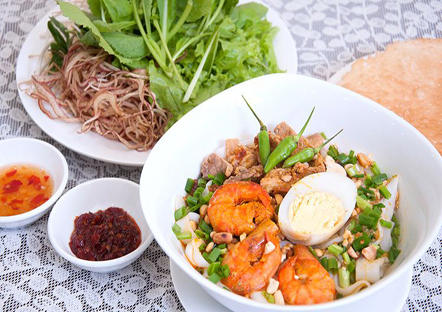 The noodles used for Mi Quang in Phu Chiem are cooked from the rice grown near the Thu Bon River that flows through Quang Nam. 
From the early morning, visitors to Phu Chiem will see women preparing their stalls to offer Quang noodle to gourmets. Some also bring the dish to nearby districts in the province on their bamboo burdens. A bowl of Quang noodle in the land of Phu Chiem catches the eyes of diners for its red-orange broth created from field crabs and shrimps. Raw vegetables served along with the dish all come from gardens of local noodle sellers, making the dish an exquisite one (given the way its broth is made), but still rustic and plain.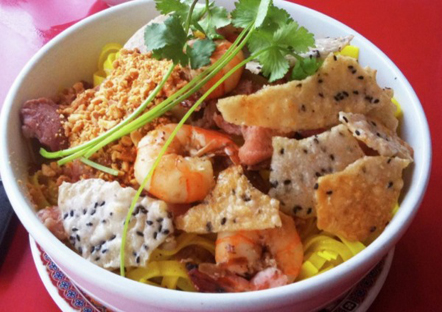 Through generations, the delicious taste of Quang noodle of Phu Chiem is still well-preserved with its fragrant broth while the noodles are not too tough or soft.
These days, Quang noodle has stepped out of the central province and even gone abroad. Its taste has also been changed to fit the eating habits of people in different regions. Therefore, it would be a worthy experience to enjoy the dish right in its hometown. If you are in Hoi An, you should try Mi Quang. 
SGT - Melbourne
Provide by Vietnam Travel
/food-drink/vietnamese-food/2017/04/the-unforgetable-taste-of-quang-noodle.html Meta Title: The unforgetable taste of Quang noodle - Vietnamese Food | vietnam travel company
You can see more
enews & updates
Sign up to receive breaking news as well as receive other site updates!