PM wants stronger oil and gas cooperation with Russia
Published: 07/11/2012 03:06
Vietnam will continue to create favourable conditions for Russian groups to implement oil and gas cooperation projects on Vietnam's continental shelf.
Prime Minister Nguyen Tan Dung made the commitment during talks in Hanoi with his visiting Russian counterpart Dmitry Medvedev on October 7. He hgighlighted efforts by Vietnamese-Russian enterprises in exploring and exploiting oil and gas in both countries.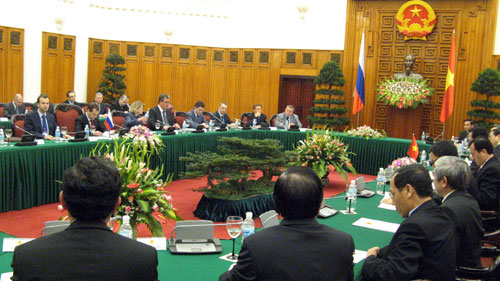 Reaffirming Vietnam's policy of promoting cooperation with Russia in the energy sector generally and particularly oil and gas, Dung asked the Russian side to assist businesses from both nations to establish enterprises interested in pursuing projects in Russia itself.
The Vietnamese government leader thanked Russian authorities for helping the Vietnamese in Russia integrate into their new society. He said the Vietnamese community will be able to contribute to fostering the bilateral relationship.
For his part, Medvedev said the Russian government and companies will continue to cooperate with Vietnam in exploiting oil and gas on Vietnam's continental shelf in the future.
The Russian government support Russia and Vietnam's oil and gas joint centure businesses in expanding cooperation in the European country, he said.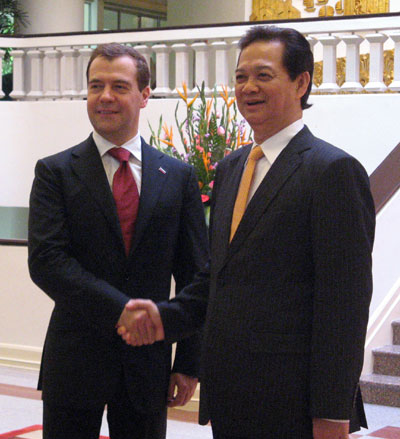 Medvedev also expressed hope that Vietnam will serve as a gateway for Russia to strengthen ties with other ASEAN nations.
Both PMs also briefed each other on their respective countries' socio-economic situations and discussed international issues of mutual concern.
They agreed to boost political relations, maintaining a high degree of mutual trust through the exchange of high-ranking delegations and diversifying cooperation between the respective Parties, Parliaments, and social organisations.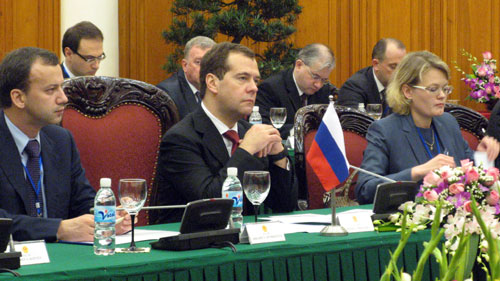 Both host and guest welcomed the positive results of the recent 15th session of the Vietnam-Russia Inter-Governmental Committee on Economic-Trade and Scientific-Technological Cooperation in Moscow on October 19. They also praised the achievements of bilateral collaboration in trade, nuclear energy, oil and gas, and military technology.
They discussed ways to implement strategic cooperation projects and increase two-way trade to US$7 billion by 2015.
Dung and Medvedev also emphasised the significance of the free trade agreement negotiations between Vietnam and the Customs Union of Russia, Kazakhstan, and Belarus, as well as the establishment of a joint task force to promote Vietnamese-Russian investment projects.
The two government leaders voiced delight at the close coordination and mutual support at the UN and other regional and international forums and multilateral organisations.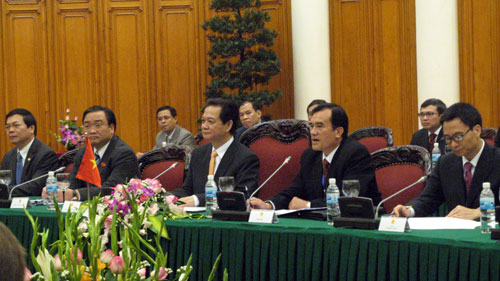 They were confident that Medvedev's visit will provide fresh impetus for a Vietnamese-Russian comprehensive strategic partnership and agreed to foster ties in national security and defence, science-technology, education-training, culture, sports, tourism, and banking.
PM Medvedev took the opportunity to invite his Vietnamese counterpart to visit Russia, an invitation PM Dung accepted with pleasure. The visit will be arranged through diplomatic channels.
After the talks, the two PMs witnessed the signing of an agreement on cooperation in using outer space for peaceful purposes and some additional cooperative agreements on energy and trade matters.

** On the same day, PM Medvedev was received by National Assembly Chairman Nguyen Sinh Hung.
Source:VOV Online
Provide by Vietnam Travel
You can see more
enews & updates
Sign up to receive breaking news as well as receive other site updates!