Hung Kings' death anniversaries commemorated in Berlin
Published: 11/04/2017 07:29
A ceremony commemorating Hung Kings was solemnly organised in Berlin for the first time on April 9 by the Vietnamese community in Germany.
The ceremony was attended by delegates from the Vietnamese Embassy in Germany, representatives from over 20 associations and organisations, and 300 Vietnamese people in Germany. The event also attracted the German media.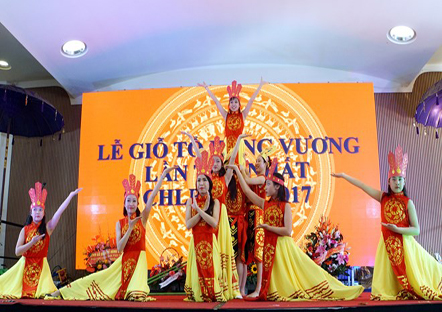 "Lac Hong bloodstream" performance in Berlin
Traditional worship ceremonies with the image of 18 Hung Kings and incense offering ceremony were reproduced during the event. The participants offered incense, flowers and fruits to the national founders who have constructed and protected the country.
Vietnamese Ambassador to Germany Doan Xuan Hung emphasised the importance of Hung Kings' festival to preserving the tradition and culture of Vietnam.
He said that it was one of the biggest Hung Kings festivals organised by overseas Vietnamese across the world. During the festival, the participants also enjoyed traditional rituals, art performances and Vietnamese cooking.
Provide by Vietnam Travel
You can see more
enews & updates
Sign up to receive breaking news as well as receive other site updates!