Broadcasters provide services below cost prices to attract more subscribers
Published: 02/05/2013 04:32
AVG now gives set top boxes to service subscribers for free, while K+ and VTC now sell the devices below cost prices. The satellite TV services have become cheaper than ever.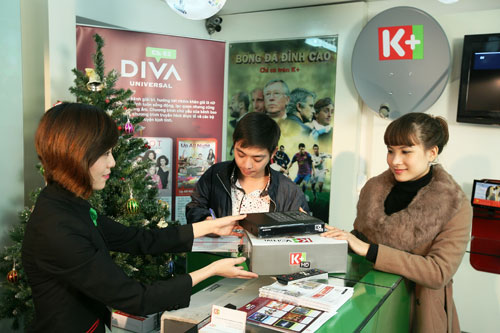 There are 3 satellite TV service providers in Vietnam, namely VTC, K+ and AVG. Only AVG lends set top boxes to subscribers for 18 months without requiring deposit money. VTC and K+ customers have to pay for the devices to be able to watch TV.

One month ago, the customers using HD service had to pay VND3.5 million for the receiver sets and the cards for the service. However, the initial sum of money has been halved since VTC and K+ both have slashed the devices' prices.

Since March 8, a set of devices from K+ has been priced at VND2 million only instead of VND3.55 million.

VTC on April 26 launched a sale promotion campaign, offering 50 percent discount for HD devices. From April 30 to July 30, the new clients only have to pay VND1.99 million for the devices instead of VND3.47 million.

A senior executive of VTC said with the price cut, VTC now sells devices at below cost prices. After the 3-month promotion campaign, VTC may follow the policy on selling devices at low prices to compete with other service providers.

With the sale promotion campaign, VTC's device price has become equal to that of K+. However, the broadcasters' service packages vary. The High-class package of AVG seems to have the cheapest initial cost and monthly subscription fee, followed by HD package of VTC. Meanwhile, the HD+ package of K+ proves to be the most expensive.

However, these are just the comparisons in terms of the devices' prices, subscription fees and the number of channels. The prices and fees are not the most important factors subscribers consider when using services. They would also consider the TV programs, the service quality as well to make decisions.

Analysts commented that K+ has every reason to set the highest subscription fee. It has been licensed to televise many big international sports tournaments, including the UK premiership 2013-2016.

The advantage of VTC is that its subscribers would not see the signals interrupted if they still do not pay to extend cards. Meanwhile, K+'s and AVG's subscribers would can only use the service if they pay for it already.

Hoang Le Son, Director of VTC Digital said the HD TV market is witnessing a cutthroat competition among service providers. They not only have to compete with the other HD broadcasters, but also with the other pay-TV service modes, including cable TV or IPTV.

Besides, the current growing tendency of using TV box products in the context of the development of smart phone, smart TV and other Internet-based multimedia entertainment modes would have big impacts on the TV service providers.

Analysts believe that all the three satellite digital broadcasters still cannot make profit in the first stage of investment. One of them has reportedly incurred the big loss of over VND1 trillion.

Therefore, the thing they have to do now is to attract as many more customers as possible by selling devices at below the cost prices. This would allow them to gather enough customers from whom they can collect service fees.
Vietnamnet
Provide by Vietnam Travel
Broadcasters provide services below cost prices to attract more subscribers - Sci-Tech News | vietnam travel company
You can see more
enews & updates
Sign up to receive breaking news as well as receive other site updates!