Getting married foreign men for filial duty
Published: 04/10/2012 03:26
At the age 23, Phuc married a Chinese man as the way to show gratitude to her parents. The Can Tho girl was unexpected to fall into painful days in a foreign land.
It is a "fashion" for girls in the Mekong Delta to fulfill their filial duty by marrying foreign men to have money to send back home to their parents.

However, the irony of fate is pushing many girls into the hell of prostitution or violence of their abusive husbands.

To rescue these women, their families need to have hundreds of millions dong (tens of thousands of USD) to ransom. Where's the money in this poor countryside?

A victim of this "fashion" is Ms. Nguyen Thi Ngoc Dung, 57, in Thoi Binh Ward, Ninh Kieu District, Can Tho City. Dung married her grand-daughter Nguyen Thi Diem Phuc, 23, to a Chinese man.

A typical victim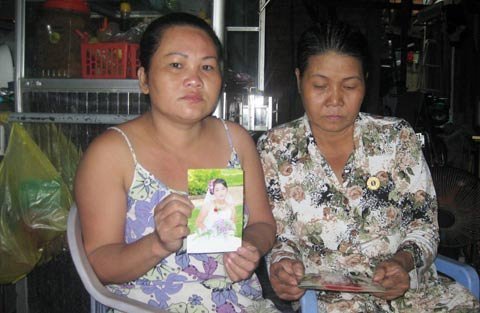 Ms. Tran Thi Diem Thuy (left) and Ms. Nguyen Thi Ngoc Dung
are helpless to save their children.
When she was 3 years old, Phuc's parents divorced. The heartless mother sent her little daughter to her mother to marry another man.

In the narrow house, Dung sits lonely, thinking about the bitter childhood of her grandchild, who had been living in the extreme, the absence of parental love until she got married.

Despite having two children, the mother went away from Phuc and her sister. Every morning, Phuc woke up and helped her grandmother to pick vegetables, wash dishes, etc. Phuc and her sister grew up in the arms of their grandparents.

She finished school at the age of 13, to begin earning her living.

"She got up early every morning to join me to clean, blow the fire, cook, pick vegetables, and do all sorts of things. She grew up and I wanted to find a good man for her so she could have a happy life. Who would have thought ... she married a Chinese man and fell into hell," Dung lamented.

One day, Dung and her grandchild went to a Buddhist temple, where they saw a matchmaker who told them about perspective when marrying a foreign man. The matchmaker said that if Phuc gets married with a foreign man, she will be happy, wealthy, and her life will change.

"Getting married for one year, you will have money to build a new house for your grandmother," the matchmaker told Phuc.

Phuc agreed to marry a Chinese man to have money to fulfill her filial duty. The marriage took place very quickly.

The matchmaker introduced Dung and Phuc to Ms. Tu, in Cao Lanh town, Dong Thap province, whose two daughters got married with foreign men and recently sent money to their mother to build a new house.

Also in Dong Thap, Dung and Phuc met a famous matchmaker, named Ms. Xai Mai, over 60.

Mai took four Chinese men to see Phuc and one of them agreed to marry Phuc and to go to Saigon to organize the wedding.

In August 2011, Phuc was married to Dong Ji Wo, 32, from Liaoning, China. Before the wedding, Dong Ji Wo bowed and promised to Ms. Dung to "support Phuc for the whole life." He also said that he has a car and factory at his hometown.

A big wedding took place in a hotel in HCM City. Two days later, Phuc left Vietnam to China with her husband. However, her dream collapsed. Soon after, Dong Ji Wo revealed himself as an abusive and cruel husband.

Late tears

Phuc called home to tell her grandmother in tears: "I was cheated by Dong Ji Wo. He stripped all jewelry and money from me. I am beaten very often and locked in a room."

Dung stood dumbfounded when she heard bad news. Then she decided to go to Ho Chi Minh City to meet Xai Mai to reclaim her grandchild.

This woman promised to take Phuc back to Can Tho but she did not realize her pledge.

For many months, Ms. Dung went to many state agencies in Can Tho and HCM City to call for help, but she got very negative signals.

Phuc was brutally harassed by her husband's family. The woman attempted to make an escape many time but she failed because she is alone in there and she cannot speak Chinese.

Phuc's mother, Tran Thi Diem Thuy, held the wedding photo of her daughter, said: "I now regret that I left her at the age of three. I was assured when she lived with my mother. Now she is being abused, I implore competent agencies to rescue my daughter."

It is the late regret of a mother. However, is it too late for those who are looking to change their life by marrying foreign men?
Source: Vietnamnet
Provide by Vietnam Travel
You can see more
enews & updates
Sign up to receive breaking news as well as receive other site updates!