Legging it through Vietnam
Published: 21/02/2013 03:41
Hobbling through Hanoi is an adventure for Liz French, even on one foot.
I didn't mind that I missed queuing to see Ho Chi Minh in his mausoleum though I would have liked to have seen the palace he never lived in and the simple peasant homes he preferred.
Instead, I was sitting on the red and yellow vinyl couch, its exploding filling taped roughly over, in the foyer of our two-star hotel with my leg up, combining ice, compression and elevation with watching Brideshead Revisited subtitled in Vietnamese.
I failed to keep my date with Uncle Ho because I was hit by a car while crossing the street on the way to the mausoleum.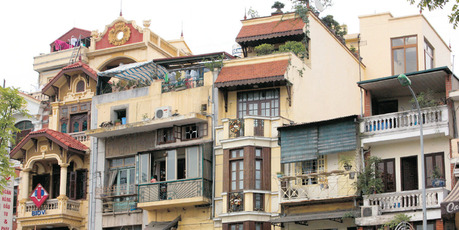 A typical Old Quarter scene in Hanoi. Photo / Helen Fritchley
Until then, in three weeks in Vietnam on an Intrepid Explorer trip involving heaps of travel, I had witnessed only two accidents - a couple of motorbike collisions in Ho Chi Minh City.
I was aware that a major road safety campaign had managed to only slightly reduce Vietnam's usual road death tally of 1000 a month but I suppose I had become a bit blase about stepping into the chaotic traffic and expecting it to weave around me.
Silly mistake. When it was all over, I couldn't put any weight on my injured ankle.
The lady driver whose side mirror I'd bounced off was distraught. And Hoang, the leader of our Intrepid group, was devastated that he had not protected me.
But in a country with little refrigeration, ice always seems to be handy. A man on a motorbike appeared with some and wrapped it in a rag round my ankle. I was ferried back to the hotel sandwiched between this stranger and Hoang. Three on a bike is nothing in Vietnam.
Another huge block of ice appeared in reception - too big to wrap, too hard to break - so I just rested against it.
When the group returned after seeing Uncle Ho, the nurse and phys ed teacher had a feel and we decided it was a bad sprain. Best I could do was stay right where I was.
Later, one of three Oriental businessmen having an hour-long portrait session in the foyer urged me to see a Chinese doctor 200m down the road. I feigned lack of comprehension.
Then the pretty receptionist extricated herself from their insistence that she appear in every photo and enthusiastically suggested that I try a traditional Vietnamese remedy for swelling. The chef would like to apply it. Well, who says the West knows best.
I did get a bit of a shock when the sweet young man who had made our omelettes that morning appeared with a flaming bowl over which was a flat dish full of wide green steaming leaves. He took each one and carefully wrapped it round my ankle as hot as I could bear.

This continued for half an hour, during which I learnt via our interpreter that though he looked 17 he was 27, had been married for a month and had used this poultice successfully on soccer injuries.
After that the receptionist kept a beady eye on me and any time I inched my leg towards the rapidly melting block she screeched: "No ice, no ice."
Sick of Vietnamese soap opera as the day progressed, I hopped to the lift up to our room for a sit-down shower, collapsing on the bed in my underwear after all the exertion. A timid knock on the door revealed my chef back for a repeat laying on of the leaves. Unfortunately, it still hurt.
That evening was the final dinner for our Intrepid group and, with departure so close, I was reluctant to get embroiled in the Vietnamese medical system.
For the dinner, Hoang, who was not much bigger than me, piggybacked me to his waiting motorbike, then up two flights of stairs at Koto ("know one teach one") Restaurant which, supported by Intrepid, equips disadvantaged young people for jobs in the hospitality industry. Coming back down after dinner was scarier and I was glad he didn't drink.
So that I could enjoy our final day in Hanoi we decided to take a taxi into the Old Quarter, known as the Venice of the East, with one of the highest population densities in the world. We would lunch at Little Hanoi, recommended by Vietnam travel, then take a scenic and shopping trip home by cyclo (a three-wheeled transport with a big seat in front of a bicycle).
The taxi dropped us at the wrong end of the street, so I hopped its length using parked motorbikes as support, only to find the restaurant was upstairs. Well, that's what bums are for.
After sharing local specialties, spring rolls and eggplant, I relaxed with a Tiger beer while my three travelling companions went for a walk and secured us some cyclos. We had quickly learnt that you always negotiate up front for any service in Vietnam and 70,000 dong (less than NZ$7 each) seemed good value.
My cyclo was wheeled across the pavement so I could barter for a jacket and a leather bag in a shop the size of a walk-in wardrobe. At the hotel, I was gently lifted out by yet another diminutive Vietnamese man.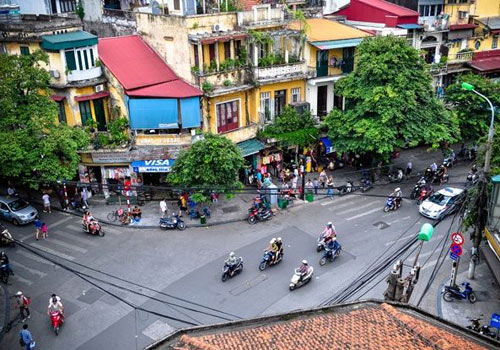 The flights home were the next challenge. My friend Helen probably had an ulterior motive for offering to push me perched on the top of her luggage trolley. Serious shopping and the multiple garments she had bought in Hoi An meant she was over the 20kg limit while my luggage was still well under.
The minute the Malaysia Airlines check-in girls saw my predicament they frantically jabbered into the phone and jabbed at their computers. A handsome young man with a wheelchair appeared at my side to whisk me through Customs.
On the plane, invited into business class, I bounced like the Energiser bunny into privileged comfort. At the stopover, another wheelchair awaited. That was the pattern all the way home, though I got two seats rather than an upgrade on the haul to Auckland.
Back home, there was time for a shower before going for an x-ray. The ankle was broken and needed surgery. Still, it seemed no worse for having hopped around Hanoi.
Source: nzherald
Provide by Vietnam Travel
You can see more
enews & updates
Sign up to receive breaking news as well as receive other site updates!