Cha ca La Vong (grilled minced fish)
Published: 17/09/2011 01:33
Hanoi now has several stores selling Cha ca La Vong, but none of them can be equal to the Cha Ca Road's in terms of quality and flavor. As a popular dish, La Vong grilled fish pie is indeed a remarkable culinary invention.
The long history…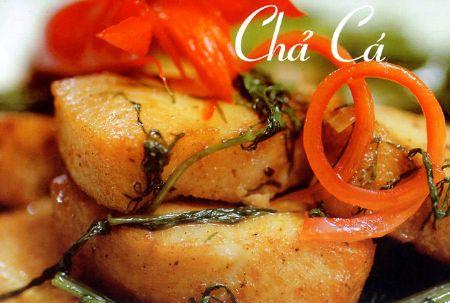 In ancient days, there was a street selling paints, called the Paints Street. The Doan family, located at house No, 14 of this street, hit upon a new idea that sold fried fish pie served with soft noodles and seasoning. Encouraged by the appreciation of customers, the family specialized in this trade and the shop was called as "Cha ca La Vong store" as a wooden statue of an old fisherman (La Vong) holding a fishing rod and a string of fish stands at the door. As the specialty grew famous with every passing day, the street was renamed by the people as Cha Ca Street (fried fish pie street).
Imagine that you are one of the guests…
While you sit down at the table, the waiter starts laying there some seasonings includes a bowl of well - stirred shrimp paste sauce mixed up with lemon. After dropping the liquor, he will decorate the bowl with a few slices of red fresh pimento, a plate of grilled ground nuts of gold yellow color, various species of mint vegetables o­nions in small white slices.

To many customers, the sight of such seasoning already greatly stimulates their appetite. A few minutes later, fried fish, yellow in color and flagrant in smell put o­n a plate of anethum vegetable, is brought in. But that is not all. A few seconds more, as soon as a cauldron of boiling fat is brought in, the waiter starts pouring it o­n each bowl of grilled fish, thus producing a white smoke and sputtering noise.
Now, this is the time for picking and choosing what you like from the dishes on the table; sticking them into your bowl. Everything in all dishes should be eaten together. Let's taste…
In the whole of Vietnam, there are 3 suggested Cha ca La Vong restaurants:
N014, Cha Ca street- Old Quarter in Hanoi
N087 Nguyen Truong To street, Hanoi
N03 Ho Xuan Huong street, Ward 6, District 3, HCMC
Provide by Vietnam Travel
You can see more
enews & updates
Sign up to receive breaking news as well as receive other site updates!