Growing pollution threatens development: ministry 
Published: 21/06/2011 05:00
A five-year study found that Vietnam spends up to 3 percent of its gross domestic product on mitigating the effects of environmental pollution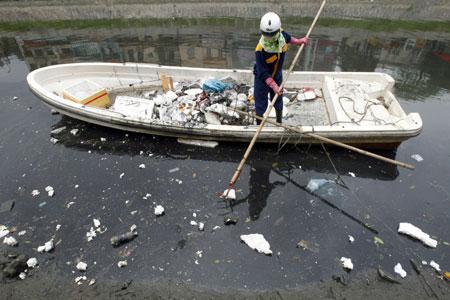 A woman skims rubbish out of a polluted river in Hanoi. A national environmental report has warned that increasing environmental pollution will hinder Vietnam's economic growth.
Dang Thi Thanh Loan's sore throat has continued to bother her despite two weeks of intensive medical treatment.
"My health has become worse in recent years," said the 54-year-old Ho Chi Minh City housewife. "It takes longer and longer to recover from any illness."
The situation is even worse for Second Lieutenant Ngo Quang Chanh, a traffic patrolman in HCMC's District 5.
Chanh says he's suffered from multiple respiratory ailments due to the city's deteriorating air quality.
"We have to be on the street during most of the day, patrolling or directing traffic," he said. "That's our job. Patrolmen are not allowed to wear [dust] masks on duty."
Despite different working environments, both Loan and Chanh have suffered from the effects of increasing air pollution, which experts say has been exacerbated by urbanization, industrialization and climate change.
A report released last year, by the Transportation Ministry's Health Department found 51.5 percent of adults in Hanoi and 35.36 percent in HCMC have suffered an acute sinus infection caused by pollution.
Meanwhile, 63 percent of children in Hanoi and 41 percent in HCMC have suffered sore throats caused by airborne pollutants, the report found.
A 2009 survey of 1,570 traffic policemen in HCMC found that the majority of traffic patrolmen have contracted respiratory illnesses due to their constant exposure to environmental pollution.
Latest findings
Last Friday, the Ministry of Natural Resources and Environment presented the 2010 National Environment Report in Hanoi.
The authors of the report announced that Vietnam's environment is changing in a "complicated manner" due to the rapid rise in pollution.
The report, which is released every five years, warned against severe water pollution in the river basins of Cau, Nhue – Day in the north and Dong Nai in the south and coastal areas; air pollution and flooding in urban areas, industrial parks and trade villages; and agricultural pollution caused by the improper use of fertilizers and other chemicals.
"We are facing many challenges, including severe environmental pollution and the impact of climate change," said Pham Khoi Nguyen, minister of Natural Resources and Environment during the launch of the report. "Environmental pollution in urban areas, industrial parks, trade villages and river basins nationwide, along with other deleterious environmental problems, has become major sources of public concern."
In its report, the ministry asked the National Assembly – Vietnam's parliament – to increase investment in environmental protection to more than 2 percent of the country's annual expenses.
They also called on the legislature to maintain vigilant oversight on major projects like bauxite mining and nuclear energy.
The human impact
According to the report from the Ministry of Natural Resources and Environment, Vietnam has spent between 1.5 and 3 percent of its gross domestic products (GDP) on mitigating environmental pollution that has been rapidly increasing for years.
Vietnam spends about US$780 million every year on healthcare services related to environment pollution, according to the findings. And it is only expected to get worse.
The report cited a World Bank estimate that those mitigation costs could rise to 5.5 percent of the nation's total earnings due to worsening pollution.
"Pollution has caused significant damage to the nation's economy and public health," the ministry said, adding that a number of deaths have been attributed to polluted water. "In 2010, 80 percent of the nation's diarrhea cases were caused by polluted water mostly in poor communes."
Water pollution was blamed for an estimated six million illnesses during the past four years. Treatment costs were estimated at around VND400 billion ($19.5 million), according to the report.
Each year, Hanoi and HCMC authorities spend some $70 million each on treating illnesses caused by air pollution.
Conflict ahead
Besides damages to human health, the Ministry of Natural Resources and Environment said environmental pollution could lead to social unrest.
"Uncontrolled mineral mining, and the discharge of untreated waste water into the environment, rising air pollution and reductions in arable land, etc. have directly affected the lives and health of many residents," the report noted. "Conflicts have arisen when economic benefits were prioritized ahead of safeguarding environmental and human health."
In the past two or three years, the Vietnamese media have reported a number of cases in which domestic and transnational manufacturers have set up industrial operations that recklessly funnel waste into the nation's rivers - effectively devastating poor, riparian communities.
In some cases, these conflicts have lead to mass protests.
Early this week, a group of farmers in the central city of Da Nang's Cam Le District reported thousands of dead fish swept up on the shore over the weekend. The farmers attributed the mass fish kill to pollution caused by the Hoa Cam Industrial Park.
The farmers said they'd seen a number of similar operations kill fish populations in canals and ponds, during the past three years.
An official at the Cam Le Environmental Division confirmed that the Hoa Cam Industrial Park lacked a wastewater treatment system and most of the plant's untreated wastewater was simply discharged into the sewer system that flows out into the rivers.
Reported by Quang Duan - Minh Hung
Provide by Vietnam Travel
You can see more
enews & updates
Sign up to receive breaking news as well as receive other site updates!