Highway section a 'dead end' for drug traffickers 
Published: 22/06/2011 05:00
The car of Trang A Chu, who rammed his car into a police vehicle in an attempt to escape a drub bust, injuring one officer and killing another on May 18 in the northern province of Hoa Binh.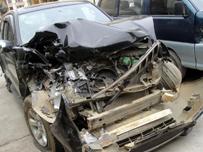 A section of the National Way No.6 in the northern province of Hoa Binh has earned a reputation for being a "dead end for drug traffickers."

Truong Quang Hai, chief of Tan Lac District's police division, said the section has earned its reputation firstly because it is located on the road that connects border and mountainous provinces with the Red River delta as well as Hanoi.
"The highway is always the main route for drug traffickers in the north," he said.
Not far from the section, which is named Tan Lac after the district, is the Muong Khen T-section, which connects other routes with southern and central provinces as well, Hai said, explaining why the police chose Tan Lac as a main point for their raids.
Moreover, it is located on the top of a slope and around the corner, so people have to slow down at that spot, said Duc, chief of Tan Lac's traffic police division.
Duc said that during a raid, traffic police would stop suspected vehicles right at the "dead end," while two groups of a specialized force would cover another two positions behind.
As it is the only route bordered by cliffs, there's almost no possibility for criminals to escape, he said.
Local police have been able to bust many operations using this ruse, confiscating hundreds of kilograms of heroin, he added.
However, there have been times when traffickers have taken extraordinary steps to escape from the police, or rather from the death penalty, because Vietnam has one of the world's toughest drug laws under which smuggling more than 600 grams of heroin can attract the death penalty.
Police said a trafficker once rode his car at full speed and jumped into a nearby drainage ditch to escape "in a miracle," considering the ditch was too narrow for a car.
On May 18 this year, knowing that he was surrounded by the police, Trang A Chu rammed his Toyota Prado GX into a police car in an attempt to escape, said Bui Nhu Muu, deputy chief of Tan Lac District's police division.
Chu's actions seriously injured two officers, one of whom died the next day from critical injuries, Muu said.
Chu, despite being in shock after the crash, broke a perfume bottle in his car and used a glass piece to cut his wrist, but his suicide attempt was foiled by the police.
"We had just seen him injuring our colleagues, but immediately after that we had to rush him to the hospital to save his life. It was a pain for us, but it is the humane part of our nation's laws," Muu said.
Some did not use violence to run away, but simply attempted suicide right on the spot, since they knew they faced a strong possibility of the death penalty.
Muu remembered a raid in August 2009, when they arrested Duong Ngo Duy of the northern province of Bac Giang, who was then carrying 40 kilograms of heroin in his car.
The man, who was then 36, followed the traffic police's order to stop his car, but when they came close to the car, they found Duy sitting calmly at the wheel with his eyes closed and his neck bleeding.
He had tried to kill himself to avoid the death punishment, but police managed to save him so he could stand trial and face his sentence.
"That's how a drug criminal is – they have to choose between life and death, so they take all kinds of risk…" Duc said.
Unfortunately, such actions also put the life of police officers at risk, he added.
Source: Lao Dong
Provide by Vietnam Travel
You can see more
enews & updates
Sign up to receive breaking news as well as receive other site updates!