Lost in renovation 
Published: 22/06/2011 05:00
A famous village in the suburbs of Hanoi, with houses dating back hundreds of years, has decided to turn its back on history, aesthetics and healthy living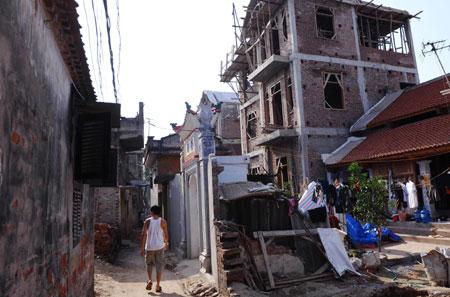 A man walks past a house under construction in Cu Da Village in the outskirts of Hanoi. Famed for its century old European-style houses, the village has lost its charm since its inhabitants began to build new, modern homes.
In most countries, the village would have been a well preserved site, proudly touted as a cultural heritage, tourist attraction and so on.
But residents of Cu Da Village in Cu Khe Commune, backed by local authorities, are destroying it in a hurry.
And amidst the dust and din of construction, wisps of nostalgia and regret expressed by some old-timers disappear into thin air.
Located some 20 kilometers from Hanoi, the village is famous for hosting more than 400 houses of old Vietnamese and French architecture built between the late 19th and early 20th centuries.
Many houses in the neighborhood had become the village's trademark, like the one belonging to Trinh Dinh Sung in Dong Nhan Cat Hamlet.
Built in 1864, the house is well-known for its architecture characteristic of the Nguyen Dynasty (1804-1839): 35 columns of precious wood divide the house into five different spaces.
Several dozen houses are as old as Sung's, while around the same number are two-storied buildings boasting French architecture.
Dinh Van Tuong's house at the entrance to An Lac alley has eye-catching highlights like Western-styled reliefs. The house, nearly 100 years old, also holds historic significance as the scene of a fight between Vietnamese soldiers and 200 troops of the French Foreign Legion in 1947.Â
Moreover, Cu Da is also the oldest, if not the only village to have its house numbered in order like urban administrative units when numbering started in 1929, according to historical records.
Its unique characteristics had made the ancient village a well-known destination for tourists.
However, Cu Da is now at risk of losing its originality and yesteryear atmosphere.
An almost tectonic shift seems to have occurred in the village after this year's Tet (Vietnamese Lunar New Year festival, which fell in February) when many locals decided to start building new houses.
The rush built up so quickly that the venerable place now looks like a big construction site.
Every day, cyclos carrying bricks, concrete, iron and other materials keep going in and out of the village hundreds of times. Several shops selling construction materials and real estate agencies have opened around the small neighborhood.
The leaders of Cu Khe Commune told newswire VietnamNet that it was understandable that people want to build new houses, because the population was increasing and the condition of their old houses had worsened.
With the compensation they received after their agricultural lands were withdrawn for site clearance for an urban area project late last year, many people have been encouraged to renovate their homes, Vu Thanh Ngoc, chairman of the Cu Khe Commune People's Committee, was quoted as saying.
According to the news source, under the site clearance plan, for every 360 square meters of land taken, affected locals would receive VND351 million (US$17,076), so a family on average got between VND1.5-2 billion ($72,974-97,299). Some received compensation of nearly VND6 billion ($291,899).
With this kind of money, it was not surprising residents are scrambling to build new houses, Ngoc said, adding that local authorities have no right to stop them.
Nearly 100 families are building new houses in the area, he said.
Trinh Dinh Binh, who has just seen his 200-year-old house replaced with a modern three-storied one, said: "With over VND3 billion ($45,701), my son wanted to build a new house although I tried to convince him not to do it.
"My son didn't want to stay in the old house, because its condition had worsened over years. Actually, even if we had kept it, it would have collapsed by now," said the man whose house was once considered one of the two oldest and most beautiful in the village.
Other residents who actually did not plan to build new homes for themselves seem unable to resist the current trend.
Vu Van Bang, who owns a house built in the 18th century, said his family never wanted to destroy their house, even though it was getting smaller as the family grew bigger.
While many people like multi-storied houses equipped with air-conditioners, Bang said, it was airier and healthier to live in old houses during the summer thanks to their smart architecture and design.
However, as many of his neighbors are building multi-storied houses, stopping the wind and cool air coming in from the fields and the river nearby, he will probably build a new house as well.
"It will be very sad if I have to destroy my present house some day in the future, but it can't be helped," Bang said with a sigh.
Sung, who owns a famous old house in the village, also said he didn't plan to build a new house, because the one he has now is large enough for himself, his wife and his aunt, while all his children were working far away from home.
Still, the septuagenarian said he probably won't be able to go against the trend, because his house might be at the risk of collapsing when people all around him built new houses.
"I'll feel sorry if I have to destroy the house which I love and have preserved for my whole life. But I don't know how long I will be able to keep it," Sung said. "Even if I can keep it until the day I die, I'm not sure if my children will be able to do the same."
Sung said his children don't like the house, because "they gain nothing from it."
"My house is famous, so many people come to visit it every day. But we can't quit our work to welcome them all the time, because it takes time and gives us nothing in return," he said.
Sung isn't the only one who feels demotivated by the lack of financial return from preserving their old houses.
Vu Van Chung, vice chairman of Cu Khe People's Committee, said it's difficult to convince people to keep their houses intact because they "see no future" in doing so.
The condition of their houses has worsened, but residents have received no support to preserve them, Chung said.
Even if they can keep their houses intact, tourism in the area was not being managed properly, so the bottom line is that residents have gained no benefit from it, he added.
Village boys walk through an old gate at the hundred-year-old village of Cu Da
Reported by Minh Ha
Provide by Vietnam Travel
You can see more
enews & updates
Sign up to receive breaking news as well as receive other site updates!