Vietnam hoping for robust 'clean air' sales 
Published: 25/06/2011 05:00
Locals tend trees in a forest in the mountainous district of Cao Phong in Hoa Binh Province. The forest is Vietnam's first afforestation project under the Clean Development Mechanism of the Kyoto Protocol.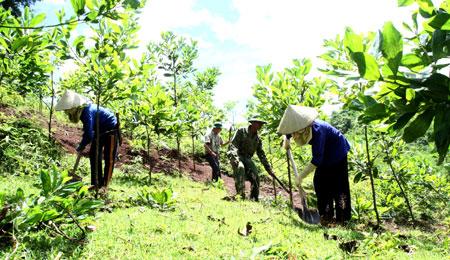 With many countries looking for carbon offsets in developing economies instead of cutting their own emissions, Vietnam has found a new way to earn money and benefit environmentally as well.
Vu Tan Phuong, director of the Hanoi-based Research Center for Forest Ecology and Environment, said industrialized countries are required by the Kyoto Protocol to cut greenhouse gas emissions. One of their options is to turn to forest projects in developing countries that absorb vast amounts of carbon dioxide from the atmosphere, he said.
Vietnam is the first country in Asia to have a small-scale afforestation and reforestation project under the Clean Development Mechanism of the Kyoto Protocol, said Phuong, who is also a long-term consulting partner of the World Bank.
The mechanism, often known as CDM, allows incentive payments to be made for greenhouse gas emission reductions in forestry projects. The reductions are measured in a unit called Certified Emission Reductions, or CER, which is equivalent to one metric ton of carbon dioxide.
"This is the right way to go, especially when climate change has become more serious," Phuong said.
"For Vietnam, the carbon market has a great potential. We can sell our credits to any buyer we want," he said, noting that CER prices are now in the US$5-10 range per unit.
His research center is one of the advocates behind the first clean forest project in Vietnam, together with the University of Forestry, Japanese agency JICA, and Honda Vietnam.
The project has gathered 240 farming households in the mountainous district of Cao Phong in Hoa Binh Province. Together they will plant a 309-hectare forest and earn money from selling carbon credits.
"The area used to be a forest in the 1970s but the trees were chopped down because locals wanted more land for cultivation," Bui Ngoc Tho recalled.
"Unfortunately, getting rid of the forest didn't make anyone richer," the local farmer said. "People couldn't get a good crop from any plant, corn or cassava."
So when the afforestation project was launched, locals were very excited, Tho said.
"We were once frightened at the idea of planting forests, because it would take a few decades before a forest could be harvested," said Bui Van Luyen, another local. "Now we only need to wait three more years for this project to bring money."
He said farmers will be able to take the wood and other foreign products, apart from selling "fresh air" – a commonly used term by locals for carbon credits.
Luyen believes the forest, however, is valuable not only because of its economic benefits. "These hills used to heat up during the summer and we didn't have enough water for our crops… But now the hills are always green and the air is cool.
"Everyone is happy now because they have jobs, they can earn money from the forest and they have a good environment to live in," he said.
Things were not so good at the beginning of the project.
Farmers in the area told Thanh Nien that when they began planting acacia trees two years ago, many could not survive the harsh weather and poor soil. Some said they might have quit if it had not been for support from forestry experts. The forest area has been expanding since, and covers 280 hectares.
Forestry professor Phung Van Khoa, deputy director of the development fund for Cao Phong forest project, said that it was not easy to plant forests for carbon credits.
To ensure that a forest will be certified later, certain technical requirements have to be met, including a rule on homogeneity, Khoa said. All trees in the forest have to be of the same kind; farmers are not allowed to grow whatever they want, he explained.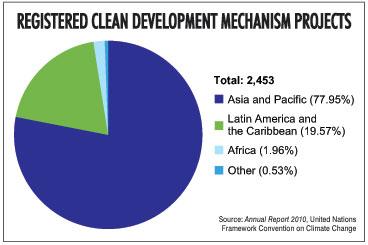 The forest project in Cao Phong only has acacia trees, which provide wood for fuel and enrich the soil, he said.
When the project is terminated, participating farmers will be allowed to harvest all the timber. Right now they are entitled to any other products that can be found in the forest including honey and firewood, Khoa said.
The Cao Phong forest has already received an international certificate, which means it is eligible to be put on the global carbon market.
But Khoa said selling carbon credits is not the priority now.
"Many foreign organizations have contacted us, offering to buy carbon credits immediately, even though the project is only two years in," he said. "We don't want to think about it now. In order to get many carbon credits we just want to focus on taking good care of the forest at this point. We will think about selling later."
Khoa estimated that during the 16-year term of the project, the forest can absorb a total 43,000 tons of carbon dioxide, which translates to VND2.95 billion ($143,500) worth of carbon credits. Forestry products will bring farmers another VND25.49 billion, he said.
Besides afforestation initiatives, many countries also pay attention to carbon credits from projects that reduce emissions caused by deforestation and forest degradation.
Local company Vietnam Carbon Exchange has said it will launch such projects in Vietnam. The first one, in the forest of the Tam Dao National Park in Vinh Phuc Province, is expected to begin this August.
The project will not engage in planting forests. Instead, it will focus on conservation of a carbon-absorbing natural forest. Vietnam Carbon Exchange estimates that the forest in Tam Dao will be able to generate 40,000-50,000 carbon credits each year.
According to the Research Center for Forest Ecology and Environment, based on the carbon dioxide absorption capacity alone, forests in Vietnam are worth between VND46 million and VND121 million per hectare.
Phu Hung, deputy chairman of the Forest Inventory and Planning Institute, said there have been very few studies to evaluate carbon credit potential in Vietnam. When careful evaluation has been completed, Vietnam can boost its carbon credit sales, to increase incomes and reduce poverty, he said.
A World Bank report released last week showed that the global carbon market shrank for the first time in 2010 as a result of the lack of post-2012 regulatory clarity. The value of the whole market fell to $141.9 billion last year from $143.7 billion in 2009, the World Bank said.
The EU is by far the biggest buyer of emission reduction credits, providing continued financial flows and technology transfer to developing countries. "If designed properly and underpinned by robust targets, the international carbon market can play a major role in global abatement efforts," the report said, citing an EU official.
But the bank also pointed out that the Clean Development Mechanism is not perfect. Despite its successes, it is simply not designed to drive the structural transformation of industry in developing countries. As an offset mechanism, it cannot reduce global emissions in net terms, the report said.
The combined value of the primary and secondary Clean Development Mechanism markets fell slightly last year to $19.8 billion. Meanwhile, the dominance of the European Union Allowances market became more pronounced, with a value of $119.8 billion in 2010.
Reported by Thu Hang
Provide by Vietnam Travel
You can see more
enews & updates
Sign up to receive breaking news as well as receive other site updates!