Fishermen pick up East Sea gauntlet 
Published: 01/07/2011 05:00
International experts urge action to back rhetoric as China and Vietnam pledge to solve East Sea disputes peacefully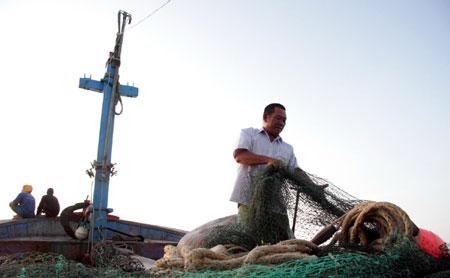 Sixty-two-year old Nguyen Van Ai of the central Binh Dinh Province prepares for an offshore fishing trip. Ai owns four large fishing boats and together with six sons, two sons-in-law and 75 other fishermen, head out to the Truong Sa (Spratly) Archipelago for regular fishing trips. "The East Sea is home," he said.
They have suffered material losses they cannot count and their mental suffering has been intense, but the residents are a determined lot.
It has been their traditional fishing grounds for generations, and they are not going to give up on them, they say.
The traditional fishing grounds in the Hoang Sa (Paracel) Archipelago has brought tenth grader Le Thi Thanh Thanh of Hai An Commune on Ly Son Island, a district of the central Quang Ngai Province, a lot of grief, but they are also a matter of huge pride.
Thanh said she would surely go to the islands where her father, 47-year-old Le Minh Tan, went missing along with five others about six months ago when they were diving offshore for seaweed.
"As the daughter of a fisherman and a Vietnamese citizen, I will do my best at school so I can go to Hoang Sa and proudly say that I have arrived on the islands belonging to Vietnam," she wrote in a letter to Thanh Nien.
On December 22, Thanh put a paper crane into her father's pocket as a prayer for good luck when they headed out to sea on a month-long trip to collect seaweed, but her prayers were not answered.
No one knows why the crew went missing after an inland station lost communication with the crew on January 17. After nearly two months of searching, rescuers gave up.
On March 13, relatives built empty graves for the missing men – a traditional funeral practice for fishermen who die at sea and whose bodies are not found.
"After nearly four months of waiting, I had to accept the truth that my father would never come back. It hurts and feels like my heart has been stabbed and torn into hundreds of pieces.
"It feels like I am living in another world – one of sorrow, loneliness and unhappiness. I continue to fold paper cranes and boats, wanting to get out of this world."
Since her father died, Thanh has helped her mother who works as daily labor by joining her on several days, but she still avoids skipping classes. Her brother studies at the Quy Nhon University in the central Binh Dinh Province and is yet to be able to work and support the family.
"The boat worth VND400 million was buried at sea just like my father. He is just like a soldier who died for protecting national sovereignty in Hoang Sa that he dedicated his life's work to," she wrote.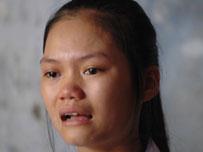 Le Thi Thanh Thanh
Thanh said she would study and work hard to maintain "the presence of Ly Son residents, Vietnamese people, and the national flag to reaffirm Vietnam's sovereignty over the Hoang Sa Archipelago."
Another Hai An Commune fisherman, Mai Phung Luu, was luckier than Thanh's father. He is still alive after having his fishing boat seized by Chinese boats several times over the past years.
On September 11 last year, the 44-year-old fisherman and eight crewmembers, including two sons and a son-in-law, were illegally detained by a Chinese patrol ship while fishing in Vietnamese waters off the coast of the Hoang Sa Archipelago. The fishermen were kept on an island in Hoang Sa before being released a month later.
Luu has worked on other boats since then. The family owns a garlic farm and are saving money in the hope of buying a new boat to head to the sea again.
On Tuesday (June 28), Luu obtained a VND300 million (US$14,600) low-interest loan from the Dong A (Eastern Asia) Bank's fund to support fishermen. He is planning to go offshore fishing again.
"It's great to have a boat to go offshore fishing again. We will head to the Hoang Sa seas without fearing anything. Our ancestors have gone fishing there and we continue their work," he told Thanh Nien Weekly on the phone.
Luu said Chinese ships have changed their ploy by shifting from seizing boats and people to confiscating fish and equipment to impoverish the fishermen.
"I believe we can get a good catch. I am not afraid of being detained and beaten anymore," he said, adding that he often burns incense for the fishermen who died at sea to ask for their help when he goes offshore fishing.
Easing tensions
Meanwhile, officials of Vietnam and China have agreed to peacefully resolve disputes through negotiation to maintain peace in the East Sea, following recent incidents when Chinese ships entered Vietnam's Exclusive Economic Zone and obstructed the nation's seismic survey ships.
According to a statement published on the official Vietnam News Agency website Sunday, Vietnamese Deputy Minister of Foreign Affairs Ho Xuan Son met with Chinese State Councilor Dai Bingguo in Beijing on June 25 to convey the Vietnamese leaders' opinions about bilateral relations and the East Sea situation.
"The two sides want the relationship between Vietnam and China to develop in a healthy and stable way, meeting the common aspirations and fundamental interests of the Vietnamese and Chinese people, which will promote peace, stability and development in the region," the statement said.
At a press briefing on Monday, Son said the two sides agreed that before solving practical issues, it is necessary to negotiate and sign an agreement on basic principles guiding the settlement of sea issues.
Following the meeting in Beijing, international experts said it is a good sign for deescalating tensions in the East Sea but called for more detailed action.
Iskander Rehman, a PhD candidate at the Institute of Political Sciences in Paris, said that China's announcement that it has reached an agreement with Vietnam to peacefully resolve maritime disputes through negotiations and friendly consultations is an interesting development, after a period of sustained tension in the East Sea.
"The statement can be viewed as an attempt to salvage China's image in the region, which is in tatters after months of disastrous public diplomacy," he said.
He also urged for timeline and details for nations to resolve the issue and bringing China to the table in order to transform the 2002 Declaration on the Conduct of Parties in the South China Sea (DOC) into a binding treaty "in order to prevent isolated naval incidents from spiraling out of control and leading to skirmishes and loss of life."
Carl Thayer, a Vietnam expert at the Australian Defense Force Academy, said it was a positive sign that China and Vietnam have resumed public diplomacy over the East Sea maritime disputes and reaffirmed their commitment to settle them through negotiations.
However, he said Vietnam should be cautious in accepting Chinese words "at face value" even as it pursues diplomatic solutions.
"Chinese expressions of goodwill and peaceful resolution of the East Sea dispute have been contradicted by Chinese actions," he said.
Thayer said China can demonstrate its commitment to a peaceful resolution of maritime disputes by taking three actions: concluding at an early date an agreement with Vietnam on the general principles to guide a peaceful resolution of their maritime disputes in the Truong Sa (Spratlys) Islands; signing an agreement with ASEAN on the guidelines to implement the DOC; and signing a Code of Conduct for the East Sea.
Ian Storey, a security analyst with the Institute of Southeast Asia Studies in Singapore, also said that until ASEAN and China can implement the DOC and move forward with a formal Code of Conduct, "the destabilizing pattern of cat and mouse tactics will continue for the foreseeable future."
Reported by An Dien – Minh Hung
BOX: US Senate deplores China's use of force
The US Senate unanimously approved a resolution on Monday (June 27) that deplored China's use of force against Vietnamese and Philippine ships in the East Sea, also known as the South China Sea.
China has shown increasing assertiveness in its claim to the entire East Sea, believed to be rich in oil and gas reserves.
In its nonbinding resolution, the US Senate urged all parties to refrain from using force to assert territorial claims.
"The Senate… deplores the use of force by naval and maritime security vessels from China in the South China Sea," the resolution said.
Senator Jim Webb, chair of the East Asian and Pacific affairs subcommittee under the Senate Foreign Relations Committee, said that "a growing number of nations around the South China Sea are now voicing serious concerns about China's pattern of intimidation."
Chinese vessels have harassed Vietnamese oil exploration ships and the Philippines has also complained that one of its ships has been rammed, the Senate resolution noted.
Mai Phung Luu
Le Thi Thanh Thanh
Source: Reuters, Thanh Nien
Provide by Vietnam Travel
You can see more
enews & updates
Sign up to receive breaking news as well as receive other site updates!