The US politician and the aspiration of globalizing Vietnamese businesses
Published: 15/04/2013 05:02
In the interview given to VietNamNet, Professor Michael Stanley Dukakis, former U.S. presidential candidate, former Governor of Massachusetts State in the US, now the Professor of some universities in Boston, said he hopes many Vietnamese businessmen would realize that Boston is their second homeland.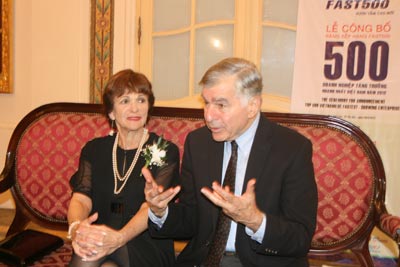 Professor Michael Stanley Dukakis
The worldly politician is now in Vietnam to attend the 500 fastest growing enterprises (FAST500) report launching ceremony held in Hanoi on April 9, 2013.

Could you please tell us the secrets that helped make Massachusetts a world's leading high technology center?

Until the day I took the office as the state's governor for the first time in late 1975, Massachusetts was just a normal industrial state with the second highest unemployment rate in the US.

There were many things to be done to turn Massachusetts into a high technology center. However, there were two main things which were developing the infrastructure and strengthening the education and training so as to attract the high quality labor force to the state to make research and work.

The big advantage that Massachusetts had at that time was that it had big and well known universities in Boston, including Harvard and medical schools, which have been training the high quality labor force not only for the US, but for the whole world as well.

In order to attract talents to Massachusetts, it is necessary to create a high quality living environment for them, while the most important factors are the green atmosphere and the preserved and promoted cultural and historical value.

A report showed that 50 out of every 100 PhDs coming to Boston to follow their studies and research would decide to stay there to continue their works.

In a letter to the Vietnamese businesses in the FAST 500 list, you, as a Member of the Board of Directors of the Boston Culture Fund wrote--that Boston is an ideal place that welcomes Vietnamese businesses. You also wrote that you hope Boston would be the second homeland in the eyes of many Vietnamese businessmen. Could you please elaborate on this?

Boston now is a world's leading high technology center, where there are a lot of global high technology groups, many good training centers and the high quality labor force.

All these could serve as the firm foundation for Vietnamese businesses to use to turn themselves into global groups.

If so, Boston would be like a nerve center which would carry out the research and development of products and brands for Vietnamese businesses, so that they can reach out to the global market and go back to Boston, which, by that time, would be their second homeland. With the great love to Vietnam, I wish to see this to happen.

At the university where I am working, there are many excellent Vietnamese students, while my neighbor is also a Vietnamese, who is a healthcare expert. I hope there would be many successful Vietnamese businesses in Boston.

Someone asked me why Vietnam, a coffee production power which can make very delicious coffee, still has not become a global brand. This is also a surprise to me. I wish we can cooperate on the matter.

Vietnamese are still very fledgling and weak. Will do you think they be able to develop in Boston?

It's true that Vietnamese businesses are still young with weak corporate governance skills. Therefore, they have been ineffectively using the resources and have low competitiveness.

So it would be not easy for them to develop their business in Boston. They need to follow the right way to do that, or their efforts would be profitless. As the Director of the Global Boston Forum, I can say that I am willing to help Vietnamese businesses in this issue.

Vietnam always wishes to develop the industries using high technologies. What will it need to do to reach that end?

As I said above, it's necessary to develop infrastructure and education. I can see many high rise buildings in Hanoi and HCM City. However, the high rise buildings may cause traffic jam and pollution. We don't do this in Boston, no high rise buildings or highway. The money reserved for such projects could be used to develop other convenient transport means such as subways or tramcars.

Would give some advices to Vietnamese businesses in the context of the Vietnam's deeper integration into the world?

Trying to obtain bigger market share should not be the most important thing businesses should strive to. The most important thing for them is to improve, upgrade the quality of products and unceasingly create added values. The world has been developing everyday, and Vietnam should not stand outside the development trend.

* Professor Michael Stanley Dukakis was the Governor of Massachusetts for three terms, which recorded the hallmark of his brilliant leadership with "the Massachusetts miracle". In 1980s, Massachusetts witnessed the strong development on the basis of the high technologies and finance services.

To date, he has always been one of the influential faces in Massachusetts state and the whole US country.

Michael Stanley Dukakis began his first term as Massachusetts' governor in 1975 and he was re-elected as the state's governor in 1982 and 1986.

He was the presidential candidate of the Democrats, Bush father's rival in the race for the White House in 1988.
Vietnamnet
Provide by Vietnam Travel
The US politician and the aspiration of globalizing Vietnamese businesses - Business News | vietnam travel company
You can see more
enews & updates
Sign up to receive breaking news as well as receive other site updates!